Cedarville sweeps Point Park in first round of AMC volleyball tournament
Nov. 12, 2010
MT. VERNON, Ohio -- Cedarville University upset Point Park University, 3-0, Friday in the first round of the American Mideast Conference volleyball tournament in Mt. Vernon, Ohio.
BOX SCORE , AMC TOURNAMENT SITE, AMC BRACKET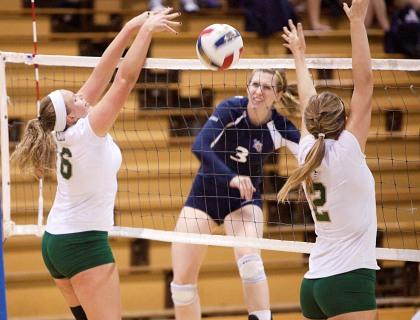 Pictured: Cedarville's Kylee Husak hits against a block of Point Park's Lindsey Oberacker (left) and Rachel Stedina.
Photo by Chelsey Engel.
Cedarville, the #5 seed, evened its record at 17-17 overall and advances to play top seed and host team Mt. Vernon Nazarene (40-3) in the first semifinal Saturday at 12 p.m.
Point Park, the #4 seed, ends its season at 29-10 overall. The Pioneers were 7-3 in the AMC during the regular season.
Cedarville won a close first set, 25-23, and used that momentum to run out to a 7-1 lead in the second set. The Yellow Jackets went on to lead the the frame 9-3 and 13-5 before registering a 25-16 victory for a commanding, 2-0 lead in the match.
Cedarville kept Point Park at arm's length for much of the third and eventually took a 21-14 lead. The Pioneers staved off several match points before eventually succumbing, 25-22.
Point Park defeated Cedarville, 3-2, in the regular season matchup Oct. 29 at Point Park. The Pioneers were ahead in that match, 2-1, but they needed a 15-11 victory in the fifth set to take that match.
Point Park made it to the AMC playoffs for the fourth time in the last five years, and the Pioneers have a combined record of 61-18 the last two seasons. Point Park was 32-8 in 2009 and made a memorable run to the finals of the AMC tournament before losing to Walsh, 3-2.
The 29 wins represent the second most in school history, trailing only last year's total. Friday's loss snapped a string of six consecutive wins. The Pioneers had won eight of their last nine matches entering the AMC tournament.
Rachel Roddy, a senior outside hitter from Greensburg, Pa., led the Pioneers with 11 kills and also racked up nine digs in the final match of her career. She finished her senior year with a career-high 445 kills and also 325 digs. For her career, the four-year starter and three-year captain has totals of 1,628 kills and 1,668 digs.
Senior middle hitter Ashley Zietak, a native of Pittsburgh, recorded nine kills and four blocks in her final performance. The 6-1 middle had 335 kills this year to give her 1,323 career kills and 350 career total blocks.
Lindsey Oberacker, a sophomore outside hitter was held to eight kills Friday, and she posted a career-high 488 to lead Point Park this year. The Erie, Pa., native had 415 kills as a freshman.
Junior setter Katie Geary tallied 28 assists versus Cedarville to put her at 1,384 for the season. Libero Amanda Ardinger, a sophomore from Moon Twp., Pa., recorded a team-high 19 digs Friday and finished the year with a career-high 584 for the season.
Stephanie Rogers and Lauren Gill led Cedarville with 14 and 10 kills, respectively.
2010 Point Park Final Season Statistics