Point Park sweeps Ursuline on Senior Night, improves to 5-3 AMC
Nov. 2, 2010
PITTSBURGH -- Point Park University swept to a 3-0 victory over visiting Ursuline College Tuesday night to pick up an American Mideast Conference volleyball victory on Senior Night at Greentree SportsPlex.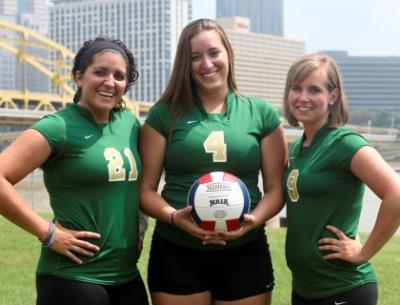 Photo by Chelsey Engel.
The Pioneers improved to 27-9 overall and 5-3 in the AMC in the final home match in the careers of senior tri-captains (pictured L-R) Rachel Roddy, Ashley Zietak and Angela Nelson. The senior trio has been a part of a record of 103-49 since their freshmen seasons of 2007, which is easily the most victories for any senior class in the history of the Pioneers' volleyball program.
Point Park won the match, 25-18, 25-15, 25-19. Ursuline is 15-19 overall and 3-6 AMC.
Zietak, a native of Pittsburgh and a graduate of Brashear High School, had a big performance on Senior Night with 12 kills versus just two errors for an attacking percentage of .345. She eclipsed the 300-kill mark for the third time in her career and now has 308 kills on the year.
Roddy, a right-side hitter from Greensburg and Greensburg Salem High School, totaled nine kills and 10 digs to give her 401 kills and 313 digs for the season. Roddy, a three-year captain, surpassed the 400-kill mark for the third time in her career.
Nelson, a senior defensive specialist from Meadville, had five service attempts with zero errors and also added two digs.
Lindsey Oberacker, a sophomore outside hitter from Erie, Pa., pounded down 14 kills and also added nine digs. Oberacker has a team-high 454 kills on the year, a figure that ranks third in the AMC.
Freshman outside hitter Chelsea Katkich, an Imperial, Pa., native, tallied eight kills with an with an impressive attacking percentage of .429.
Setter Katie Geary, a junior from Pittsburgh, handed out 37 assists and had eight digs.
Point Park has two matches remaining with both being conference contests. The Pioneers need one more win to assure themselves a spot in the five-team AMC playoffs. Point Park is currently in fourth place and holds the tiebreaker over the two teams below it in the standings -- Cedarville (5-4 AMC) and Daemen (4-4 AMC).
Point Park visits western New York this weekend to conclude the regular season. The Pioneers travel to Houghton Friday at 7 p.m. and to Roberts Wesleyan Saturday at 11 a.m.
The AMC tournament is scheduled for Nov. 12-13 at the site of the regular-season champion. Mt. Vernon Nazarene (9-0 AMC) topped Malone (8-2 AMC), 3-2, Tuesday to take ahold of first place. Walsh (8-0 AMC) visits Mt. Vernon Nazarene Thursday in a match that will likely decide the location of the conference tournament.