Point Park wins at Roberts, completes regular season at 29-9 overall, 7-3 AMC
Nov. 6, 2010
ROCHESTER, N.Y. -- The Point Park University volleyball team completed the 2010 regular season at 29-9 overall and 7-3 in the American Mideast Conference with Saturday's 3-1, conference victory at Roberts Wesleyan.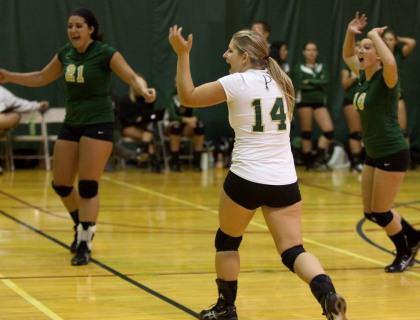 Pictured: The Point Park defense celebrates a point in a match earlier this year. Photo by Chelsey Engel.
The Pioneers move on to the postseason for the fourth time in the last five years, and they will be the No. 4 seed in the AMC Volleyball Tournament hosted by top seed Mt. Vernon Nazarene Nov. 12-13.
Point Park will meet No. 5 seed Cedarville (6-4 AMC) in the first round on the evening of Nov. 12. The winner will advance to play regular season champion Mt. Vernon Nazarene (10-0) the following morning. Cedarville swept lowly Notre Dame (OH) Saturday to wrap up the final playoff spot in the five-team field.
The official AMC Volleyball Tournament bracket will be released by the league office early next week. Other playoff teams are Walsh (9-1 AMC) and Malone (8-2).
Point Park dropped the first set to Roberts Wesleyan (21-13, 4-5 AMC) and had to gut out a close third set, but the Pioneers eventually won the match, 21-25, 25-16, 27-25, 25-13.
The Pioneers completed a 7-0 AMC record versus teams below them in the standings, but they were unfortunately 0-3 versus the teams above them -- Mt. Vernon, Walsh and Malone. That trend will have to be reversed if the Pioneers hope to win the single-elimination AMC tournament and earn the league's lone NAIA national bid.
Point Park's all-conference outside-hitter Lindsey Oberacker had 19 kills, seven digs and three blocks to pace Point Park Saturday. The sophomore from Erie, Pa., enters the playoffs having put up a career-high 480 kills this year.
Senior right-side hitter Rachel Roddy pounded out 17 kills to go along with seven digs. The Point Park attack also got nine kills and four blocks from senior middle hitter Ashley Zietak.
The Point Park back row had a busy day as Amanda Ardinger (21 digs), Margaret Gillooly (20) and Alyssa Hall (14) combined to keep things under control on defense. Setter Katie Geary had 46 assists.
Point Park narrowly beat Cedarville, 3-2, at home Oct. 29. The Pioneers prevailed by scores of 25-21, 22-25, 25-15, 23-25, 15-11.
Should Point Park beat Cedarville, it will give the Pioneers their second 30-win season in school history and the second in a row. Also, it would be the 250th career victory for head coach Mike Bruno, who is in his sixth year at Point Park and his 11th year overall.
Point Park was 32-8 last year and made it to the finals of the AMC tournament. The Pioneers also made the AMC playoffs in 2006 and 2007.