Oberacker, Roddy named NAIA All-Northeast Region by AVCA
Dec. 8, 2010
PITTSBURGH – The volleyball honors continued this week for Point Park University's Rachel Roddy and Lindsey Oberacker, who were each named NAIA All-Northeast Region selections by the American Volleyball Coaches' Association on Monday.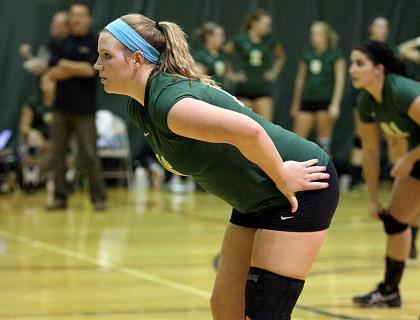 Pictured: Point Park outside hitter Lindsey Oberacker. Photo by Chelsey Engel.
AVCA site: http://www.avca.org/awards/regional-awards/naia/
Roddy, a senior right-side hitter from Greensburg, Pa., and Oberacker, a sophomore outside hitter from Erie, Pa., received NAIA AVCA All-Region honors for the first time in their careers. Both players were named to the All-American Mideast Conference first team last month.
They join Jana Orlofske as the only Point Park volleyball players to earn a spot on the all-region team. Orlofske was a regional selection in 1996 and 1997 and is one of two volleyball players in the school's Pioneer Athletic Hall of Fame. Point Park's Megan Lamens was named honorable-mention NAIA AVCA All-Region last year.
Roddy and Oberacker were the top two players on a Point Park team that was 29-10 overall this fall. The Pioneers reached the AMC playoffs for the fourth time in five years thanks to Roddy and Oberacker, who gave Point Park the top-ranked offense in the conference in terms of kills per set (13.0).
Oberacker led the team with a career-high 488 kills, a figure that ranked third in the AMC. Oberacker also totaled 206 digs, 74 blocks, 61 aces and an attacking percentage of .286. She posted an impressive 415 kills her freshman season to garner All-AMC second-team honors.
Roddy finished her outstanding career with a career-high 445 kills in 2010. A four-year starter and a three-year captain, she also tallied 335 digs and 65 blocks. For her career, Roddy totaled 1,628 kills and 1,668 digs. Roddy has been All-AMC first team and an NAIA Scholar-Athlete the last two years.
Roddy has played nearly every point during the last four years, and she has led a resurgence of Point Park volleyball. She and her senior classmates were 105-50 the last four years to become the winningest senior class in the history of the program.