Point Park volleyball's five NAIA Scholar-Athletes rank first in AMC, top-10 in nation
Dec. 9, 2010
PITTSBURGH – The Point Park University volleyball team had an AMC-best five players named NAIA Scholar-Athletes this year and set a program record for most honorees in one season. Furthermore, there were only eight schools in all of NAIA volleyball that had more awardees than Point Park this year.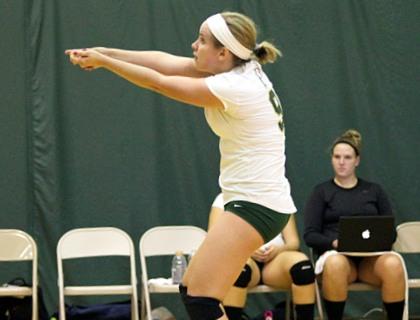 Pictured: Angela Nelson. Photo by Chelsey Engel.
Point Park players named NAIA Scholar-Athletes include seniors Angela Nelson and Rachel Roddy and juniors Katie Geary, Zoe Hughes and Rachel Stedina. The NAIA Scholar-Athlete award is earned by juniors and seniors who have at least a 3.5 grade-point average and have been at their institution for at least one year. 
Nelson and Roddy were named NAIA Scholar-Athletes for the second year in a row while juniors Geary, Hughes and Stedina earned the honor in the first year in which they were eligible.
Point Park volleyball easily has the most NAIA Scholar-Athletes in the American Mideast Conference as only one other conference rival has as many as three awardees.
The Pioneers, under the direction of sixth-year coach Mike Bruno, have had at least three NAIA Scholar-Athletes each of the last four years. In addition to their strong work in the classroom the last four seasons, the Point Park volleyball program has an impressive won-loss record of 105-50 during that span.
Point Park was 29-10 this season and reached the AMC playoffs for the fourth time in five years. The Pioneers are 61-18 the last two seasons and made an appearance in the championship match of the conference tournament in 2009.
Roddy, a two-time All-AMC first-teamer and an AVCA All-Northeast Region selection, leads the team with a 3.92 GPA as an elementary education major. Fellow senior Angela Nelson owns a 3.73 GPA as an advertising and public relations major.
Rachel Stedina majors in informational technology with a GPA of 3.87. Katie Geary and Zoe Hughes both major in intelligence and national security with GPAs of 3.75 and 3.52, respectively.