Pioneers open training for 2010 season, first match is Aug. 26 at Rio Grande
Aug. 16, 2010
PITTSBURGH -- The Point Park University volleyball program began its preparation for the 2010 season with the opening of preseason training today (Aug. 16) at Greentree SportsPlex.
The Pioneers held their first day of two-a-day practices, and they will conduct nine such practice dates prior to their season opener Aug. 26 at Rio Grande (6 p.m.). After visiting the Shawnee State tournament Aug. 27-28, Point Park opens its 11-match home schedule Sept. 1 vs. Westminster (7 p.m.).
Read below for a season preview. Click the links below to view roster, schedule and download quick facts.
DOWNLOAD QUICK FACTS, VIEW ROSTER, VIEW SCHEDULE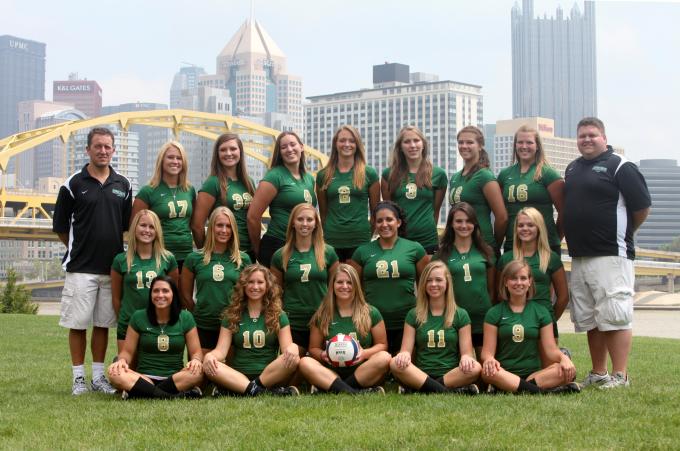 Point Park enters the 2010 season looking to build on the momentum that was created from last year's 32-8 record. The Pioneers' list of achievements in 2009 included reaching the finals of the AMC tournament, setting a school record for wins (32) and consecutive wins (15) and making the AMC playoffs for the third time in four years.
What's more, the Pioneers return all but one starter from the 2009 squad, NAIA all-region player Megan Lamens (MH). Head coach Mike Bruno is in his sixth season at Point Park, and he has a record of 104-82 at the school.
Highlighting this year's roster are all-conference players Rachel Roddy (RS, 5-9, Sr.), Ashley Zietak (MH, 6-0, Sr.) and Lindsey Oberacker (OH, 6-0, So.) as well as junior setter Katie Geary (S, 5-9, Jr.), who was sixth in the NAIA in assists per game last year. Roddy was a first-team All-AMC choice last year, and Oberacker was a second-team pick. Zietak was an All-AMC third-team selection in 2008, although she missed half of last year due to injury.
Joining Roddy and Zietak as a senior tri-captain is Angela Nelson (DS, 5-9, Sr.), who is back for her fourth year in the program.
Last season, the Point Park offense ranked 15th in the NAIA in total kills, and Roddy (439 kills) and Oberacker (415 kills) were a big reason for that success. Zietak, who was limited to just 19 matches, turned in 195 kills in half a season. Another key returner on offense is Zoe Hughes (OH, 5-9, Jr.), who registered 236 kills -- third among returnees -- in 2009.
Geary's totaled 1,576 assists for an average of 11.10 per set.  
In the back row, the Pioneers return their entire defensive unit, which is led by a trio of sophomores Amanda Ardinger (552 digs in 2009), Alyssa Hall (428 digs) and Margaret Gillooly (386 digs). Roddy is also one of the defensive leaders with 402 digs last season.
Up front defensively, Point Park will have to replace Lamens' 118 blocks. Oberacker is the tops among returners in blocks with 77 as a freshman. Geary recorded 66 blocks from her setter position followed by Roddy with 55 and Zietak with 53 in only 19 matches. Junior Rachel Stedina (MH, 6-1, Jr.) chipped in 50 blocks.
Second-year players who will look to build on their freshmen seasons of a year ago include Kirsten Burkes (OH, 6-0, So.) and Amanda Wenger (OH, 5-9, So.). Chelsea Johnson (DS, 5-7, Fr.) came into the program last year, but she is listed as a freshman this season because she missed all of 2009 due to injury.
Newcomers for the Pioneers this year are freshmen Nicole Wurstle (MH, 6-1, Fr.), Kyleigh Whitsel (DS/S, 5-6, Fr.), Chelsea Katkich (OH, 6-0, Fr.), Taylor Roddy (DS, 5-5, Fr.) and Courtney Seronka (OH/MH, 5-9, Fr.).
Point Park will take a 12-match home winning streak into its Sept. 1 home opener vs. Westminster at Greentree SportsPlex. The Pioneers have not lost at home since the end of the 2008 season, and thei were 11-0 there last season.
For the second year in a row, the Point Park will host their tournament, the Pioneers Invitational, on Sept. 10-11. The tournament field includes three NCAA Division II schools in Seton Hill, Pitt-Johnstown and Slippery Rock.
Other tournaments on Point Park's schedule  include at Shawnee State (Aug. 27-28), at Fairmont State (Sept. 3-4) and at Clearwater (Fla.) Christian (Oct. 8-9).
Point Park will face a challenging test of 10 AMC matches. The 11-team league lost two teams from last year -- Shawnee State and Northwestern Ohio, a pair of playoff teams. Both schools joined other conferences. The Pioneers begin AMC play Sept. 21 at Carlow.