Pioneers extended home winning streak to 13 matches with sweep of Westminster
Sept. 1, 2010
PITTSBURGH -- The Point Park University volleyball team extended its home winning streak to 13 consecutive matches following a 3-0 sweep over non-conference Westminster Wednesday night a Greentree SportsPlex. The Pioneers (4-2) won their 2010 home opener by scores of 25-15, 25-12, 25-13 over the Titans (0-1).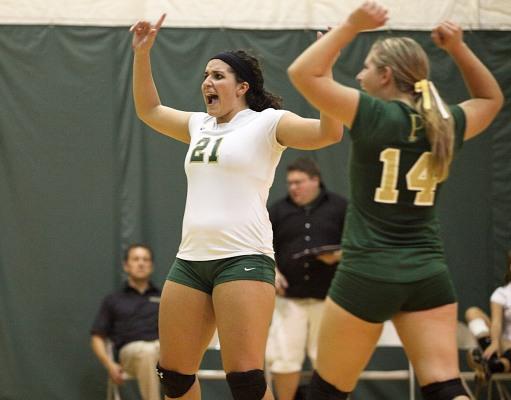 PICTURED ABOVE: Point Park's Rachel Roddy (21) and Amanda Ardinger (14) celebrate a point in Wednesday's win.
Photo by Chelsey Engel, Point Park athletics  
Point Park's home winning streak dates back to late in the 2008 season. The Pioneers were 11-0 at home last year -- 32-8 overall -- and their last loss at Greentree SportsPlex was a close, five-setter to perennial power Shawnee State late in 2008.
Lindsey Oberacker (Erie/McDowell), a sophomore outside hitter tallied team highs of 11 kills and four aces. Freshman middle hitter Nicole Wurstle (Valley City, OH/Buckeye) posted 10 kills and three blocks.
As a team, Point Park enjoyed a great hitting performance with a team attacking percentage of .383 to go along with 11 aces.
Senior outside hitter Rachel Roddy (Greensburg/Greensburg Salem) chipped in seven digs and seven kills, and junior setter Katie Geary (Pittsburgh/Shaler) totaled 28 assists.
Defensively, sophomore Amanda Ardinger (Moon Twp./Moon Area) led the way with 17 digs from the libero spot. Margaret Gillooly (Cranberry Twp/Seneca Valley) chipped in seven digs and two aces while fellow sophomore defensive player Alyssa Hall (Moon Twp./Moon Area) had six digs and two aces.
Point Park is next in action this weekend at the Fairmont State Falcon Fest. The Pioneers face AMC rival Notre Dame (OH) and NCAA Division II Chowan on Friday. Point Park faces eight Division II programs in a row after playing Notre Dame.
Point Park's Gold Team won its home opener Wednesday, a 3-0 win over Penn State-Fayette. The Gold Team (1-0) is in its third year of existence as the Pioneers developmental team. The Gold Team plays host to Butler County CC next Wednesday.