Point Park wins twice on Day 2, wraps up 3-0 weekend at Pioneer Invitational
Sept. 11, 2010
PITTSBURGH – The Point Park University volleyball team picked up two wins Saturday to complete a 3-0 weekend at its Pioneer Invitational at Greentree SportsPlex.
Point Park, winners of seven of their last eight matches, improved to 10-3 by beating Pitt-Johnstown, 3-1, and sweeping Slippery Rock, 3-0, on Saturday. Point Park started the event with a 3-1 win over Seton Hill on Friday, and it bested the tourney field that included three NCAA Division II schools.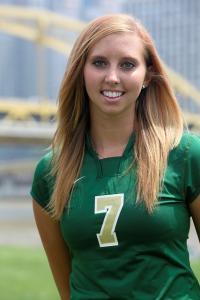 In the process, Point Park extended its home winning streak to 16 consecutive matches, a stretch the goes back to the end of the 2008 season.
PICTURED LEFT: Point Park junior setter Katie Geary surpassed the 2,500-career assist mark Saturday and was one of three Pioneers on the all-tourney team.
Slippery Rock (2-6), which was the last non-conference team to win on Point Park's home court over two years ago, went 2-1 on the weekend with wins over Seton Hill1 (3-1) and Pitt-Johnstown (3-0).
Pitt-Johnstown (2-3), went 1-2 on the weekend after beating Seton Hill, 3-1. Seton Hill opened its season this weekend and was saddled with an 0-3 record.
Point Park senior outside hitter Rachel Roddy (Greensburg/Greensburg Salem) was named tournament MVP. The three-year captain totaled 21 kills and 20 digs combined in the two wins Saturday.
Also on the all-tourney team from Point Park was junior setter Katie Geary (Pittsburgh/Shaler), who surpassed the 2,500-career assist mark on Saturday. The native of Pittsburgh had 34 assists versus Pitt-Johnstown and 33 versus Slippery Rock to give her 2,526 for her career. Geary ranked eighth in the NAIA last year with a career-high 1,576 assists.
All-tourney outside hitter Lindsey Oberacker (Erie/McDowell) had an excellent weekend for Point Park. The second-team, all-conference pick from a year ago needed only three games to tie a season high with 19 kills versus Slippery Rock. She also added four blocks and six digs in the match, which was after putting up 12 kills and 13 digs earlier in the day versus Pitt-Johnstown.
The all-tournament team was rounded out by Kaylee Smith (OH) of Slippery Rock, Taylor Hrescak (OH) of Pitt-Johnstown and Anna Knestaut (L) of Seton Hill.
In Point Park's victory over Pitt-Johnstown, the Pioneers middle hitter position got eight kills from Ashley Zietak (Pittsburgh/Brashear) and seven kills and four blocks from Nicole Wurstle (Valley City, OH/Buckeye).
Margaret Gillooly (Cranberry Twp./Seneca Valley) and Amanda Ardinger (Moon Twp./Moon Area) totaled 13 and 12 digs, respectively.
Versus Slippery Rock, the Pioneers once again got great performances from the middle of their front line. Zietak tallied eight kills and three blocks, while Rachel Stedina (South Beaver/Blackhawk) recorded six kills and four blocks.
Ardinger posted a team-high 22 digs in the victory over The Rock, and Alyssa Hall (Moon Twp./Moon Area) added 11 digs.
Point Park will now go on an extended road trip as their next home match is an important AMC matchup versus Walsh on Oct. 5. The Pioneers lost to Walsh in last year's AMC Tournament championship match.
The Pioneers visit Wheeling Jesuit on Saturday for a tri-match. The Pioneers will face West Virginia State and Wheeling Jesuit next weekend before opening AMC play at Carlow Sept. 21.