Oberacker, Roddy lead Pioneers to split at Shippensburg Tri-Match
Sept. 25, 2010
SHIPPENSBURG, Pa. – Lindsey Oberacker and Rachel Roddy each had a big day to lead the the Point Park University volleyball team to a split at the Shippensburg tri-match Saturday.
Box Score vs. East Stroudsburg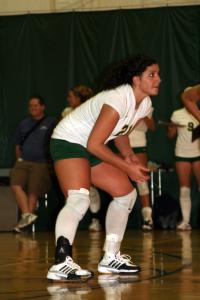 Point Park (13-5) started the day with a 3-0 sweep of East Stroudsburg (5-12), but the Pioneers lost their second match of the day to host Shippensburg, 3-1.
East Stroudsburg started the day with a 3-2 win over PSAC rival Shippensburg (6-9), and both of the NCAA Division II schools are 1-5 in conference play.
Point Park cruised past East Stroudsburg by scores of 25-13, 25-15, 25-16.
In the loss to Shippensburg, the Pioneers won the first set, but ended up losing the next three. Shippensburg's two-point win in the fourth set gave the Red Raiders the victory by scores of 20-25, 25-20, 25-22, 25-23.
Oberacker, a sophomore outside hitter from Erie, Pa., had 12 kills, five digs and three blocks versus East Stroudsburg. She followed that up with 16 kills, 11 digs and four blocks versus Shippensburg.
Roddy (pictured), a senior from Greensburg, Pa., had a pair of double-doubles with 11 kills and 13 digs in the opener and then 12 kills, 10 digs and two blocks in the second match.
Junior setter Katie Geary, from Pittsburgh, had a solid day, as well, with 38 assists and 12 digs in the victory and 45 assists to go along with nine digs in the loss.
Senior Ashley Zietak, a native of Pittsburgh, put up eight kills and a block versus East Stroudsburg and nine kills and two blocks versus Shippensburg.
Sophomore libero Amanda Ardinger, a native of Moon Twp., Pa., recorded 26 and 22 digs, respectively in the two matches.
With Saturday's split, Point Park is 3-1 this year versus PSAC schools. The Pioneers also own victories over Edinboro and Slippery Rock.
Point Park's next match is an American Mideast Conference matchup at Notre Dame (OH) Tuesday. The first serve is set for 7 p.m.