Point Park improves to 2-0 in AMC with sweep at Notre Dame (OH)
Sept. 28, 2010
SOUTH EUCLID, Ohio -- Point Park University picked up a 3-0 sweep at Notre Dame (OH) College Tuesday night and improved to 2-0 in American Mideast Conference volleyball play.
The Pioneers (14-5, 2-0 AMC) remained unbeaten in conference play by registering a 25-18, 25-13, 25-19 victory over Notre Dame (1-18, 0-4 AMC).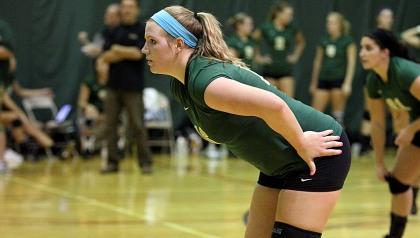 Photo by Chelsey Engel on Sept. 11, 2010
Lindsey Oberacker (Erie/McDowell), pictured, and Nicole Wurstle (Valley City, OH/Buckeye) each had 11 kills for Point Park, which beat Notre Dame for the fourth time in a row and the second time this season.
Point Park had squeaked out five-set win over Notre Dame this year at the Fairmont State tournmant, but Tuesday's victory was much easier. The Pioneers have been Notre Dame the last three years in conference play.
Oberacker recorded a very-impressive attacking percentage of .526 for the match. Wurstle was strong up front, as well, with a .426 hitting percentage to go along with four blocks.
Rachel Roddy (Greensburg/Greensburg Salem) had a nice, all-around game for Point Park with 12 digs, nine kills, four assists, three aces and two blocks.
Katie Geary (Pittsburgh/Shaler) picked up 28 assists while the back row received 12 digs from Margaret Gillooly and 10 digs from Amanda Ardinger (Moon Twp./Moon Area).
Point Park will visit Pitt-Johnstown Thursday at 7 p.m. for a non-conference match. The Pioneers beat Pitt-Johnstown, 3-1, at their Pioneer Invitational Sept. 11. Point Park visits the Shepherd tri-match Saturday before returning to AMC play Tuesday versus defending AMC tournament champion Walsh (7 p.m.).