Point Park volleyball wins both matches on first day of Fairmont State Falcon Fest
Sept. 3, 2010
FAIRMONT, W.Va. -- The Point Park University volleyball team won both of its matches on the first day of the Falcon Fest hosted by Fairmont State University.
The Pioneers improved to 6-2 on the year by defeating American Mideast Conference rival Notre Dame (OH), 3-2, and sweeping NCAA Division II school Chowan, 3-0.
Box Score vs. Notre Dame (OH) , Box Score vs. Chowan (NC)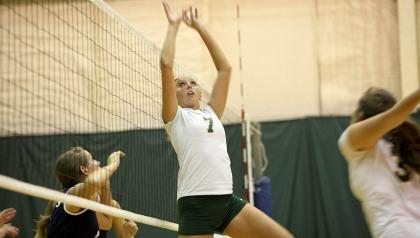 PICTURED ABOVE: Point Park junior setter Katie Geary helped the Pioneers win both of their matches Friday at Fairmont State's Falcon Fest. Photo by Chelsey Engel, Point Park athletics.
Point Park (6-2) trailed Notre Dame, 2-1, but ended up winning by scores of 22-25, 25-21, 22-25, 25-21, 15-9. The Pioneers beat Notre Dame (0-6) for the third time in a row.
The Pioneers disposed of Chowan (0-2) in straight sets, 25-20, 25-20, 25-16. Point Park enjoyed an attacking percentage of .500 in the first and third sets to assert control early and late in the match.
In the five-set win over Notre Dame (OH), Point Park's Lindsey Oberacker (Erie/McDowell) turned in a season-high 19 kills to go along with six aces, six digs and two blocks.
Rachel Roddy (Greensburg/Greensburg Salem) totaled 16 kills and six digs while fellow senior captain Ashley Zietak (Pittsburgh/Brashear) had 11 kills and six blocks. Freshman middle hitter Nicole Wurstle (Valley City, OH/Medina Co.) added seven kills and four blocks.
Junior setter Katie Geary (Pittsburgh/Shaler) registered a season high with 50 assists. Defensively, Amanda Ardinger (Moon Twp./Moon Area) led the Pioneers with 20 digs. Margaret Gillooly (Cranberry Twp./Senecal Valley) and Alyssa Hall (Moon Twp./Moon Area) had 14 and 10 digs, respectively.
Chowan opened its seaosn Friday and was coming off a 2009 season in which it was 29-9 and won an NCAA Division II confrence championship in the CIAA.
Zietak turned in 10 kills, and the senior from Pittsburgh had one hitting error in 14 attempts.
Roddy finished with 12 kills, nine digs and three blocks while Oberacker posted 10 kills and five digs. Geary recorded 34 assists, seven kills and six blocks. Wurstle ended up with six kills and five blocks.
The Pioneers continue play at the Falcon Fest with two matches Saturday. Point Park faces Edinboro and host Fairmont State on the final day of the event.