Point Park University volleyball program announces 2011 recruiting class
June 13, 2011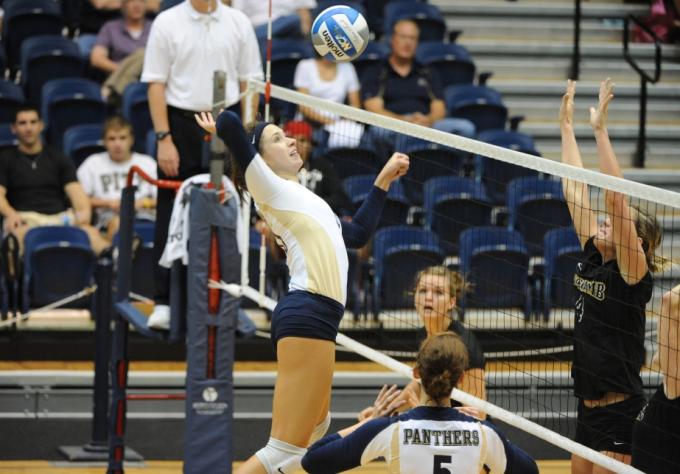 Brittany Lhota (MH) is a sophomore transfer from the University of Pittsburgh. Photo courtesy Pittsburgh athletics.
PITTSBURGH – Point Park University volleyball head coach Mike Bruno has announced the signing of a talented 2011 recruiting, one that includes a transfer middle hitter from the University of Pittsburgh and a transfer setter from Notre Dame (OH). In all, the Pioneers have signed 10 players who will join the team in the fall of 2011.
"This is a talented and unique class," said Bruno, who enters his seventh year in charge of the Pioneers this fall. "We are fortunate to have five transfers with collegiate playing experience and also to add some solid freshmen. It is a very athletic group with a lot to offer, and we are optimistic about the upcoming 2011 volleyball season."
With this incoming class, the Pioneers will hope to continue their winning ways that saw them go a combined 61-18 (.772) the last two years. Point Park has made the American Mideast Conference playoffs four of the last five years. The Pioneers were 29-10 last year and 32-8 in 2009.
Point Park volleyball's 2011 recruiting class is as follows: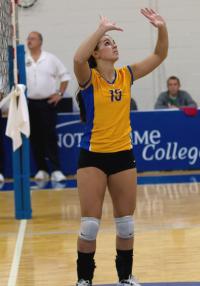 Brittany Lhota (MH, 6-2, So.) spent her freshman season at Pitt last year and brings plenty of height, length and athleticism to the middle hitter position. Rated as the No.2 player in Western Pennsylvania coming out of Latrobe High School, she went on to tally 24 kills and nine blocks in 23 sets played at Pitt in 2010. Lhota was the named the Terrific 21 Player of the Year by the MSA Sports Network after her senior year at Latrobe. She put up 225 kills and a .577 hitting percentage that season.
Tayler Pugliese (S, 5-6, Jr.) (pictured right) played at AMC rival Notre Dame (OH) the last two years, and she was the Falcons' starting setter last season as a sophomore. She totaled 919 assists, 191 digs and 71 kills in 2010. In limited action as a freshman, she totaled 79 assists, 93 digs and 24 kills.
Brigette Jones (OH, 5-11, Fr.) was recruited to play basketball at Notre Dame (OH), but the former All-Northeast Ohio selection in volleyball transferred schools and changed sports. Jones, who was redshirted at NDC last year, was a two-time All-Lorain County performer in volleyball.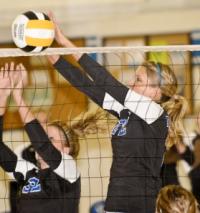 Ashley Campbell (MH, 5-11, Jr.) (pictured left) was a two-time NJCAA All-Region player at Butler County CC, where she was the 2009-10 Female Athlete of the Year. The Karns City, Pa., native hit an impressive .402 with 159 kills last year. As a freshman, she posted career highs of 232 kills and 42 blocks.
Sarah Mathias (RS, 5-11, So.) is a transfer from NCAA DII West Liberty where she spent her freshman season of 2010. The Glenshaw, Pa., native totaled 53 kills, 48 blocks and 22 digs in 77 sets with the Hilltoppers last year.
Amanda Pato (S/OH, 5-9, Fr.), from Perryopolis, Pa., was one of the top players in the WPIAL at Frazier HS. The setter/outside hitter made the All-WPIAL Class A First Team and was the MSA Sports Network's Terrific 21 Player of the Year.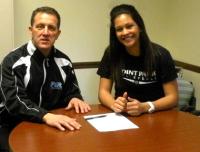 Keaton Sausman (MH, 5-11, Fr.) (pictured right), a native of Canton, Ohio, was a first team selection in the Federal League. The GlenOak High School product was also a District IV first-team all-star.
Liz Nester (OH, 5-8, Fr.) from Mansfeild, Ohio, was a three-time letterman at Mansfield Christian HS. She earned team MVP honors as a senior when she recorded 216 kills and 18 blocks.
Erica Olson (DS, 5-4, Fr.), from Hopewell, Pa., is a product of Hopewell High School and the Hollywood Volleyball Club.
Amarys Dixon (DS, 5-6, Fr.), a native of Monaca, Pa., played high school volleyball at Central Valley High School, which was formerly Center Area. 
With this year's recruiting class, the Pioneers will have to replace some key players who have moved on from the program. Lost to graduation were four-year starters and three-time All-AMC selections Rachel Roddy (OH) and Ashley Zietak (MH). Also gone is Katie Geary (S), a three-year starter at setter who has chosen to forego her senior season to study abroad this fall. Point Park's top returning player is Lindsey Oberacker (OH), an AVCA/NAIA All-Region Player who will be a junior in the fall.
POINT PARK VOLLEYBALL 2011 RECRUITING CLASS
Name                           Ht.        Pos.     Cl.        Hometown (High School or Prev. School)
Brittany Lhota                6-2        MH       So.       Latrobe, Pa. (Transfer from Pitt)
Tayler Pugliese              5-6        S          Jr.        Ashtabula, Ohio (Transfer from Notre Dame (OH))
Ashley Campbell           5-11      MH       Jr.        Karns City, Pa. (Transfer from Butler Co. CC)
Sarah Mathias               5-11      RS        So.       Glenshaw, Pa. (Transfer from West Liberty)
Brigette Jones               5-11      OH       Fr.        Elyria, Ohio (Transfer from Notre Dame (OH))
Amanda Pato                5-9        S/OH    Fr.        Perryopolis, Pa. (Frazier HS)
Keaton Sausman           5-11      MH       Fr.        Canton, Ohio (GlenOak HS)
Liz Nester                      5-8        OH       Fr.        Mansfield, Ohio (Mansfield Christian HS)
Erica Olson                   5-4        DS       Fr.        Hopewell, Pa. (Hopewell HS)
Amarys Dixon               5-6        DS       Fr.        Monaca, Pa. (Central Valley HS)