Point Park University volleyball team wins 2010 season opener, 3-0 at Rio Grande
Aug. 26, 2010
RIO GRANDE, Ohio -- The Point Park University volleyball team opened its 2010 season Thursday night with a 3-0, non-conference victory at Rio Grande.
The Pioneers (1-0) swept the Red Storm (0-1) by scores of 28-26, 25-19, 25-22. BOX SCORE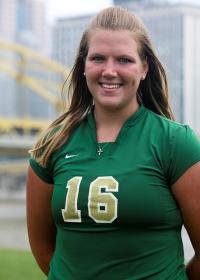 Point Park, which returns all but one starter from last year's team that went 32-8, has a busy weekend ahead. The Pioneers visit the Shawnee State Tournament for two matches each on Friday and Saturday. Point Park faces Lindsey Wilson (0-1) and NAIA preseason No. 19 Shawnee State (0-0) on Friday.
Point Park sophomore outside hitter Lindsey Oberacker (Erie/McDowell) totaled 10 kills, three aces and two digs. The second-team All-AMC selection is pictured left.
Freshman middle hitter Nicole Wurstle, from Valley City, Ohio, put up 11 kills and three blocks in her first-career match. Wurtsle stands 6-foot-1.
Katie Geary, a junior setter, tallied 13 assists, four kills and five digs. Geary split setting duties with freshman Kyleigh Whitsel (Sheffield, OH/Brookside), who recorded 17 assists and six digs in her first action.
Other offensive leaders included senior Rachel Roddy (Greensburg/Greensburg Salem) with seven kills and five digs and senior Ashley Zietak (Pittsburgh/Brashear) with six kills.
Defensively, sophomore Margaret Gillooly (CranberryTwp./Seneca Valley) gathered 15 digs from the libero position.
Rio Grande, which was 19-18 overall and 9-5 in the Mid-South Conference in 2009, had been an AMC rival of Point Park's until last year. The Red Storm were picked this year to finish second in the Mid-South East Division, one spot behind Shawnee State. Last year, Shawnee State won the AMC regular season title, but the Bears joined the MSC this season.
Friday's first opponent, Lindsey Wilson, was picked in the preseason to finish third in the Mid-South West Division.