Volley for Vision and Family Weekend scheduled for Saturday, Oct. 16, 2010
Saturday, Oct. 16, Point Park vs. West Liberty (10 am), Urbana (2 pm)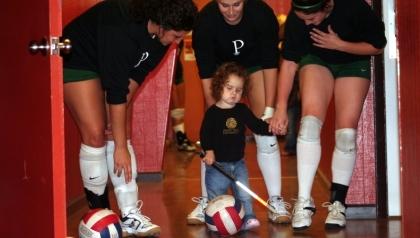 Pictured: Cassie Bruno, the daugther of Point Park Univeristy volleyball head coach Mike Bruno, at the Inaugural Volley for Vision in 2008.
VOLLEY FOR VISION: On Saturday, Oct. 16, Point Park University volleyball will host its Volley for Vision for the third year in a row. Volley for Vision was created by the Point Park volleyball program, and its goal is to raise money and awareness for ROPARD, the leading organization the guides funding and research for problems of low vision and blindness in children as a result of premature birth.
The Pioneers host West Liberty at 10 a.m. in what is designated as the 'Volley for Vision' match. The tri-match concludes with Urbana at Point Park at 2 p.m. All proceeds from the event will be donated in full to ROPARD.
Admission is a $5 donation for adults and $2 for students. Other money will be raise from food concessions, raffles and an auction. Other donations can be made in a flat rate or in a per-dig pledge. The more digs that Point Park records in the match vs. West Liberty, the more money will be raised for ROPARD.
Donations can be made by seeing a Point Park player or coach or by visiting the Volley for Vision website at www.volleyforvision.org.
FAMILY WEEKEND: Saturday, Oct. 16 is Family Weekend at Point Park University, and the volleyball tri-match is a part of the day's activities. Free shuttle transportation will be provided for Point Park students, parents, family and friends from campus to Greentree SportsPlex.
Shuttles will leave Alumni Park at 9:20 and 9:40 a.m. for the first match, with a return time to campus of 11:45 a.m. For the 2 p.m. match, departure from campus will be 1:20 and 1:40 p.m., with a return time of 3:45 p.m.
For a complete schedule of Family Weekend activities, visit the link below:
FAMILY WEEKEND