Point Park volleyball set for big year in 2011 with mix of returners, newcomers
Aug. 25, 2011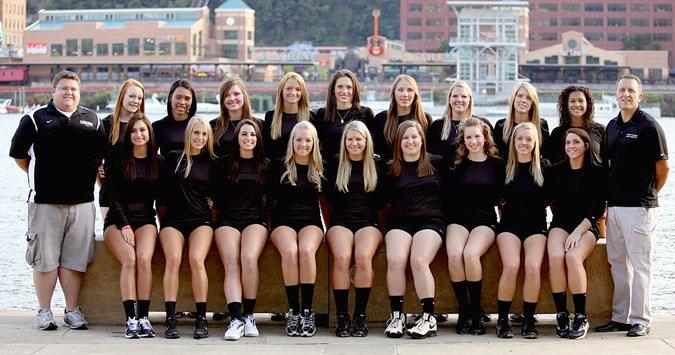 2011 QUICK FACTS, ROSTER, SCHEDULE
PITTSBURGH -- The Point Park University volleyball team is set for a big year in 2011 with plenty of returners being joined by some talented newcomers. The Pioneers open their season Aug. 26-27 at the Aces in August event hosted by the University of Rio Grande in Rio Grande, Ohio.
Point Park will need to be on top of its game from the season's start as it is facing some strong NAIA competition right off the bat. The Pioneers open up with Asbury (Ky.), which was 33-5 overall and fell one match shy of the national tournament last year. Later that day, Point Park faces Union (Ky.), which was 25-13 and went to the NAIA tourney for the second year in a row. Host Rio Grande, 22-14 last year, is the fourth team in the event.
Point Park enters the season opening event having been in the 'others receiving votes' section of the NAIA Volleyball Coaches' Preseason Top 25 Poll. The Pioneers garnered 18 votes and were rated as the 35th best team in the country. Also, Point Park was picked to win the American Mideast Conference in a preseason vote of the league's coaches.
Point Park returns 7 of its top 10 players from last year's team that was 29-10 overall and 7-3 in the AMC. The Pioneers have had one of the strongest back rows in the AMC the last few years, and that defensive unit returns intact with three juniors -- Amanda Ardinger, Margaret Gillooly and Alyssa Hall -- all returning.
Offensively, junior outside hitter Lindsey Oberacker is the top gun, and she has 903 career kills is just two years. Oberacker is a two-time all-conference choice and was an AVCA NAIA All-Northeast Region performer last year when she had 488 kills, 206 digs and 74 blocks.
Also returning along the front line is Chelsea Katkich, a sophomore outside hitter who earned a starting role midway through her freshman year. She ended up with 151 kills and 38 aces in what amounted to half a year of playing time (89 sets).
At middle hitter, the Pioneers have Nicole Wurstle, a 6-1 sophomore who had 132 kills and 109 blocks in just 109 sets. She missed the last part of the year due to injury. Rachel Stedina, a 6-1 senior, is also back for her fourth year to add depth and height in the middle.
The Pioneers entered the year having to replace departed starters at right-side hitter (Rachel Roddy), middle hitter (Ashley Zietak) and setter (Katie Geary). While Roddy's right-side spot featured several players battling it out in preseason camp, the middle hitter and setter areas were pretty well solidified with some offseason transfers.
In the middle, the Pioneers added University of Pittsburgh transfer Brittany Lhota, who stands 6-foot-2. Lhota was an all-state player at Latrobe High School and was one of the top players coming out of Pennsylvania in 2009.
At setter, Point Park plugged its hole there with the addition of Tayler Pugliese, a transfer from Notre Dame (OH). Pugliese was Notre Dame's starting setter last year, and the former Ashtabula (Ohio) County Player of the Year is a junior.
Other newcomers in the mix so far in the preseason are Brigette Jones (OH), Ashley Campbell (RS) and Keaton Sausman (RS). Returners Taylor Roddy (DS) and Cassandra Maxell (DS) add depth on defense.