Oberacker repeats as AMC Player of the Week for fourth time in six weeks
Oct. 11, 2011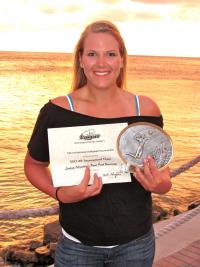 PITTSBURGH -- Point Park University outsider hitter Lindsey Oberacker has continued her lock on the American Mideast Conference Volleyball Player of the Week honor as the junior from Erie, Pa., received the award for the fourth time in six weeks.
Pictured Left: Oberacker poses with the team trophy and her all-tournament award from the Clearwater Christian Tournament. Photo by Neal Brown.
Oberacker totaled 71 kills and 64 digs in six matches the week of Oct. 3-9 to win the weekly honor. She led Point Park (26-4) to a 6-0 week, the team title at the Clearwater (FL) Christian Tournament and first place in the AMC standings with a win over Walsh.
The product of McDowell High School got her week started with 12 kills and 14 digs in a big AMC win over previously unbeaten Walsh on Oct. 4. The victory gave Point Park the lead in the conference standings.
Then came the trip to Florida and the Clearwater Christian Tournament. There, she played in all five matches but only played sparingly in two of the matches that the Pioneers won easily. Still, she put up some huge numbers in the others.
Oberacker's best match in Florida was versus Grace, which like Point Park is receiving votes in the NAIA Top 25 Poll. Oberacker totaled 24 kills, 18 digs, four blocks and four services aces in the 3-1 win. Those impressive stats include averages of 6.0 kills, 4.5 digs, 1.0 blocks and 1.0 aces per set.
Other strong performances in Clearwater included 12 kills versus Northwood and 16 kills versus Clearwater Christian. For her efforts, Oberacker was named to the all-tournament team.