Point Park strengthens AMC lead with sweeps of Daemen and Roberts
Oct. 15, 2011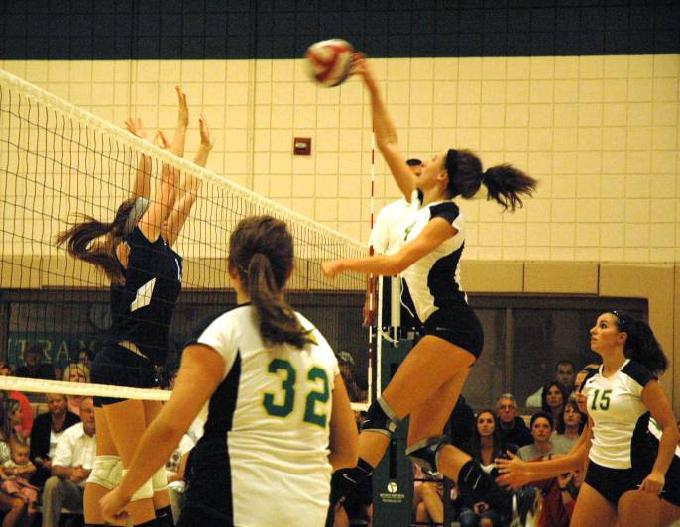 Brittany Lhota had 15 kills versus Daemen and 13 kills versus Roberts. Photo by Richard Finch.
STATS vs. Daemen, STATS vs. Roberts
PITTSBURGH -- Point Park University picked up a pair of 3-0 sweeps over Daemen College and Roberts Wesleyan College in American Mideast Conference volleyball action Saturday at Greentree SportsPlex, and the Pioneers strengthened their position atop the league standings with the two victories.
First-place Point Park (28-4, 7-1 AMC) now has a two-match lead over Daemen (21-10, 4-3 AMC) with two matches to play. Roberts Wesleyan (15-8, 3-4 AMC) is next in the standings.
Point Park has won 13 matches in a row, which is two off the school record for consecutive wins set in 2009. The Pioneers are four behind tying the 2009 team for most victories.
When considering playoff seeding, results versus Walsh (5-1 AMC) will be taken out. In those adjusted standings, Point Park is 6-0 in the league, Daemen is 4-2 and Roberts is 3-3.
If Point Park can make its two-match lead stand up after its final two AMC matches at Carlow (Oct. 18) and versus Houghton (Nov. 4), then it will host the AMC playoff tournament Nov. 8.
Point Park beat Daemen by scores of 25-9, 25-20, 25-19 on Saturday. The Pioneers ran off a long string of points to end set number one, and it was Taylor Roddy who was doing the serving. Point Park hit .524 in that set.
Brittany Lhota, a sophomore right-side from Latrobe, Pa., came up big with 15 kills versus zero errors in 27 attempts (.556) against Daemen. She also added four blocks.
Chelsea Katkich totaled eight kills and six blocks, and Nicole Wurstle added another eight blocks of her own.
Setter Tayler Pugliese had 34 assists and 11 digs. Also in double digits for digs were Alyssa Hall with 13 and Lindsey Oberacker with 11.
Ye Wang, a middle hitter from China, led Daemen with 10 kills and three blocks. Point Park held Daemen to a hitting percentage of .069.
Point Park and Roberts Wesleyan did not have much separation in any of the sets, but Point Park still came out with the sweep, 25-21, 25-21, 26-24. The Pioneers trailed the third set, 23-19 before a late rally carried on by Roddy's serving allowed for the comeback.
Lhota had another big match with 13 kills and an attacking percentage of .409. The 6-2 Lhota has seen a spike in her kills since shifting from middle hitter to right-side hitter in recent weeks.
Oberacker put up 11 kills and a team-high 14 digs. Margaret Gillooly registered 13 digs and Amanda Ardinger had 12.
Pugliese totaled 37 assists and seven kills. Also with seven kills was Katkich. Wurstle chipped in five kills and four blocks.