Lhota named AMC Volleyball Player of the Week for Oct. 10-16
Oct. 19, 2011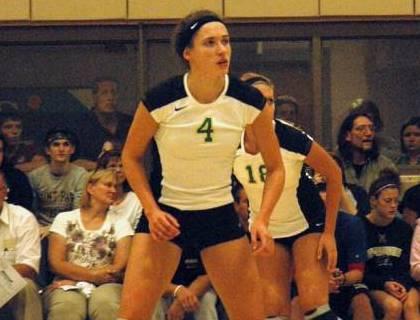 PITTSBURGH -- Point Park University right-side hitter Brittany Lhota was named the American Mideast Conference Volleyball Player of the Week for matches played Oct. 10-16. Lhota, a sophomore from Latrobe, Pa., averaged 4.7 kills and 1.0 blocks per set and hit .490 in two matches last week.
Lhota is in her first year at Point Park after spending her freshman season at the University of Pittsburgh. Lhota is a graduate of Latrobe High School.
With her strong play, Lhota led Point Park (29-4) to a pair of conference wins last week. She put up 15 kills and zero errors in a 3-0 victory over a 21-win Daemen club. Lhota hit .556 and added four blocks in that match.
In a 3-0 win over Roberts Wesleyan, Lhota posted 13 kills, two blocks and an attacking percentage of .409. For the week, she had 28 kills and six blocks in six sets played.
For the year, Lhota has 264 kills, 120 blocks and a hitting percentage of .311. Her kills have seen an increase number since she made the move from middle hitter to right-side hitter a few weeks ago. Since then, she has registered double-digit kills in 10 of 14 matches.