Oberacker named AMC Volleyball Player of the Week for 3rd time in 5 weeks
Oct. 5, 2011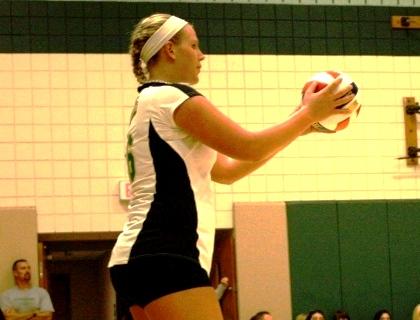 Point Park's Lindsey Oberacker gets ready to serve in a match Sept. 20. Photo by Lyddia Ankrom.
PITTSBURGH -- Point Park University junior outside hitter Lindsey Oberacker has been named the American Mideast Conference Volleyball Player of the Week for matches played Sept. 26-Oct. 2. The native of Erie, Pa., received the award for the third time in the five weeks that it has been given out so far this year.
Oberacker had another strong week for Point Park, which is 21-4 overall and 5-1 in the AMC. In three matches last week, Oberacker totaled 44 kills, compiled an attacking percentage of .369 and also added 24 digs and nine total blocks.
That performance helped Point Park go 3-0 on a road trip to Western New York to play Houghton College, Roberts Wesleyan College and Daemen College.
Oberacker turned in averages of 4.4 kills, 2.4 digs and 0.9 digs per set last week.
At Houghton, Oberacker had 15 kills versus just one error for an attacking percentage of .519. She followed that up with 14 kills and 11 digs at Roberts Wesleyan, a match in which she had zero errors and a percentage of .452.
Oberacker's week concluded with 15 kills, nine digs and six blocks at Daemen, a team that had 19 wins entering the match.
The 6-0 junior currently ranks fifth in the nation (NAIA) in total kills with 351. That figures leads the AMC by 90 kills over the nearest challenger. Her 4.1 kills per set ranks ninth in the NAIA.
Oberacker is hitting .320 for the year, which is good for third in the conference and 47th nationally. Her 72 total blocks are fouth in the AMC and 48th nationally.