Point Park wins Clearwater (FL) Christian Tourney with 5-0 weekend
Oct. 8, 2011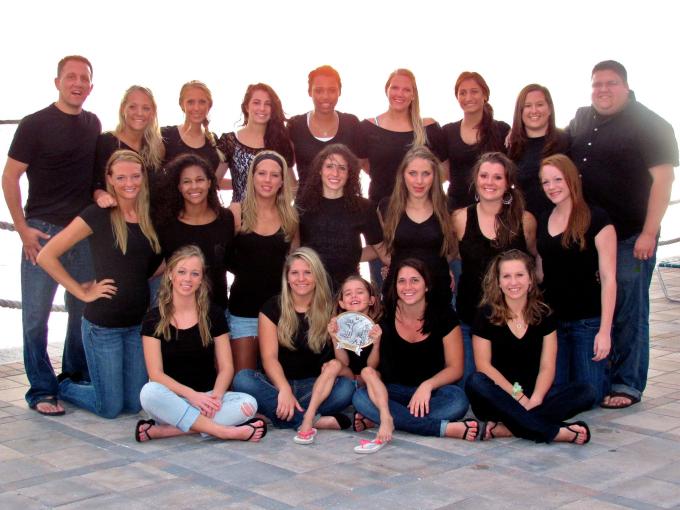 The Point Park volleyball team poses on the beach with its championship trophy from the Clearwater Christian Tournament. Submitted Photo.
CLEARWATER, Fla. -- The Point Park University volleyball team won a pair of matches Saturday to complete a perfect, 5-0 weekend at the Clearwater (FL) Christian Tournament, and the Pioneers increased their consecutive win streak to 11.
Point Park (26-4, 5-1 AMC) beat Grace, 3-1, and then wrapped up the tournament title by beating host Clearwater Christian, 3-0, on Saturday.
The 11-match winning streak is approaching the school record for consecutive wins, which was set at 15 matches in September-October 2009. The Pioneers went 32-8 that year.
Grace (19-7, 8-2 MCC), which like Point Park was getting votes in this week's NAIA Volleyball Coaches' Top 25 Poll, gave Point Park all it could handle. But the Pioneers came away with the four-set win, 25-21, 23-25, 25-23, 25-21.
Point Park then took care of Clearwater Christian (22-6) by scores of 25-22, 25-19, 25-11.
Point Park also won the Clearwater Christian Tournament in 2009 and was tied for the best record at the event last year.
Point Park's main offensive threats, outside hitter Lindsey Oberacker and right-side hitter Brittany Lhota, were named to the all-tournament team.
Oberacker, from Erie, Pa., and McDowell High School, had a combined 40 kills and 35 digs in Saturday's matches. She had 24 kills and 18 digs in the hard-fought match versus NAIA Grace. She followed that up with 16 kills and 17 digs versus Clearwater Christian, a USCAA school.
Lhota, from Latrobe, Pa., and Latrobe HS, put up 14 kills and six blocks versus Grace and then 11 kills and four blocks versus Clearwater Christian.
Setter Tayler Pugliese, a junior from Ashtabula, Ohio totaled 46 assists, seven digs and four blocks against Grace. She picked up 32 assists versus Clearwater.
There were of good defensive numbers versus Grace. Rachel Stedina had nine blocks, and Nicole Wurstle had six. Alyssa Hall led the team with 15 digs while Margaret Gillooly and Amanda Ardinger had nine and eight digs, respectively.
Versus Clearwater Christian, Oberacker's 18 digs led the way with Hall (15) and Gillooly (10) also reaching double digits.
Point Park is off until Saturday, Oct. 15 when its hosts Daemen (1 p.m.) and Roberts Wesleyan (4 p.m.). That day will be the fourth annual Volley for Vision, a program started by Point Park volleyball that raises money and awareness for ROPARD, the leading organization combating vision problems related to premature birth.
More details about Volley for Vision can be found at www.VolleyForVision.org.