Point Park to visit Indiana Tech in Opening Round of NAIA National Championship
Nov. 13, 2011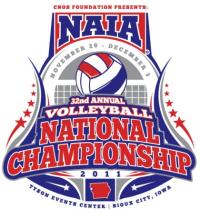 NAIA Volleyball Opening Round, Sat., Nov. 19
Point Park (36-5) at Indiana Tech (33-5), 1 p.m.
ON AIR: Live Audio courtesy Indiana Tech & Stretch Internet: LISTEN LIVE
PITTSBURGH -- The Point Park University volleyball team learned of its Opening Round opponent for the 32nd Annual NAIA Volleyball National Championship with the national office's announcement of the pairings Sunday night at 7 p.m. ET.
The Pioneers, 36-5 overall and champions of the American Mideast Conference, will visit Indiana Tech (33-5) in the Opening Round Nov. 19. Indiana Tech is ranked No. 17 in this past week's NAIA Top 25 poll and is the champion of the Wolverine-Hoosier Athletic Conference.
Saturday's match will start at 1 p.m. on Indiana Tech's campus in Fort Wayne, Ind. The Warriors' athletic department will provide Live Audio via Stretch Internet at the link above.
The winner of the Point Park-Indiana Tech match will advance to the final site in Sioux City, Iowa. There are 12 Opening Round matches at campus sites around the country.
Indiana Tech is in the NAIA National Championship for the fourth year in a row. Point Park will be the third consecutive AMC champion to face the Warriors in the Opening Round. Indiana Tech lost to 2010 AMC champ Malone, 3-2, in last year's first match. The Warriors beat Walsh, 3-1, in the 2009 NAIA Opening Round. That 2009 Walsh team edged Point Park, 3-2, in the AMC Tournament Finals to get to that match versus Indiana Tech.
Point Park is in the NAIA National Championship for the first time in its history. The Pioneers won their first American Mideast Conference Tournament title Nov. 8 on their home court. Since the AMC does not have the required six schools for an automatic national bid, Point Park had to beat Holy Names (Calif.), 3-1, in an Unaffiliated Group match Nov. 12 to punch its ticket to the NAIA tourney.
The 32nd Annual NAIA Volleyball National Championship will have its final site in Sioux City, Iowa, Nov. 29-Dec. 3. Point Park is one of 36 teams that are in the national tournament. Twelve teams have received a bye to the final site while the other 24 teams are involved in the 12 NAIA Opening Round matches at the campus sites.
The NAIA Opening Round winners will join the 12 teams that got a bye, which includes host Morningside (Iowa), at the final site in Sioux City, Iowa. The final site will be held at the Tyson Events Center.
The final site competition includes a pool-play portion and a tournament phase. In pool play, the teams are grouped into six, four-team pools. The top two teams from each pool advance to the bracket portion of the tournament, which is single eilimination. The national championship match is Dec. 8 at 8 p.m. CST.
Visit the links below for information from the NAIA volleyball website:
32nd Annual NAIA Volleyball National Championship Info
NAIA RELEASE: National Championship Qualifiers Announced (Nov. 13)