Point Park volleyball team takes home big honors in All-AMC awards
Nov. 20, 2011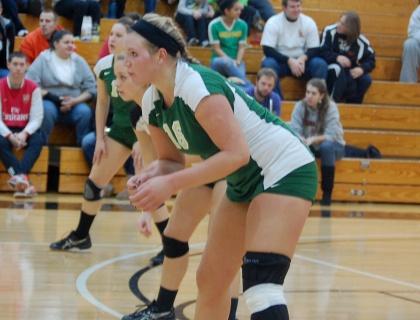 Point Park's Lindsey Oberacker is the 2011 AMC Volleyball Player of the Year.
PITTSBURGH -- The Point Park University volleyball team took home some big awards in the 2011 All-American Mideast Conference Volleyball Teams that were announced Friday (Nov. 18) by the league office. The Pioneers (36-6) were awarded the AMC Player of Year Lindsey Oberacker, AMC Setter of the Year Tayler Pugliese and AMC Coach of the Year Mike Bruno.
Oberacker and Pugliese were named to the All-AMC First Team along with teammates Brittany Lhota and Nicole Wurstle. Rounding out Point Park's all-conference honorees was Rachel Stedina as All-AMC Honorable Mention.
Oberacker is an All-AMC choice for the third time in her career and is a first-team selection for the second year in a row. Pugliese, Wurstle, Lhota and Stedina garnered All-AMC mention for the first time. Bruno got AMC Coach of the Year honors for the second time since he's been at Point Park. Overall, he has five Coach of the Year awards in his 12 years as a college head coach.
According to the all-conference voting by the leagues' coaches, Point Park had three of the top five players in the league. Oberacker was voted first, Lhota third and Pugliese fifth. Walsh's Julianne O'Donnell (OH) and Daemen's Jenn Karan (OH) were second and fourth, respectively.
The Pioneers had their most successful season in their 21-year history. They made the national tournament for the first time before losing to Indiana Tech in the NAIA Opening Round Nov. 19.  They also won their first conference title and established new records for most wins (36) and fewest losses (6).
AMC Player of the Year Lindsey Oberacker led the Pioneers to the national tournament with a year worthy of NAIA All-American status. A three-time all-conference selection, Oberacker had career highs of 556 kills (3.92 per set), a .318 hitting percentage, 378 digs and 110 blocks. Oberacker ranked fourth in the nation in total kills entering the national tournament. The All-AMC First Team selection is a 6-0, junior outside hitter from Erie, Pa., and McDowell High School.
AMC Setter of the Year Tayler Pugliese directed an offense that ranked eighth in the NAIA in terms of total kills in last week's rankings. The 5-7 junior from Ashtabula, Ohio, and Lakeside High School, totaled 1, 575 assists (10.94 per set), and had the third-most assists in the NAIA before the nationals began. She also was 10th in assists per set in those rankings. The All-AMC First Team choice is a transfer this year from Notre Dame (OH) College who also added 257 digs, 120 kills and 76 blocks.
Brittany Lhota, a 6-2 right-side hitter from Latrobe, Pa., earned All-AMC First Team honors with 388 kills, 136 blocks and a team-best attacking percentage of .358. She transferred this year from NCAA DI Pittsburgh. She started the year as a middle hitter, and although her blocks decreased when she made the move to right-side hitter in mid-October, her kills drastically improved down the last stretch of the season. She had 18 kills in the national tournament loss to Indiana Tech.
Nicole Wurstle, a 6-1 middle hitter from Valley City, Ohio, was All-AMC First Team with 195 kills and a team-leading 164 blocks. Also with strong play from the middle hitter spot was senior Rachel Stedina, a 6-1 senior from South Beaver, Pa., who received All-AMC Honorable Mention. Stedina earned a starting spot when Lhota moved to the right side, and she totaled 111 kills and 128 blocks in just 101 sets. She also hit .329.
Bruno is the all-time leader in victories at Point Park with a record of 169-98 in seven years at the school. That mark includes a record of 97-24 since the start of the 2009 season. The 2006 AMC North Coach of the Year has a career record of 285-156 in 12 years as a college volleyball head coach. He spent five years at Waynesburg, where he was voted conference Coach of the Year three times from 2000-04. 
POINT PARK'S ALL-AMC AWARDS
First Team
Lindsey Oberacker, OH, Jr., 6-0, Erie., Pa. (AMC Player of the Year)
Brittany Lhota, RS, So., 6-2, Latrobe, Pa.
Tayler Pugliese, S, Jr., 5-7, Ashtabula, OH (AMC Setter of the Year)
Nicole Wurstle, MH, So., 6-1, Valley City, OH
Honorable Mention
Rachel Stedina, MH, Sr., 6-1, South Beaver, Pa.
AMC Coach of the Year
Mike Bruno, 7th season