Point Park ties program record with 32 wins, takes down West Liberty on the road
Nov. 2, 2011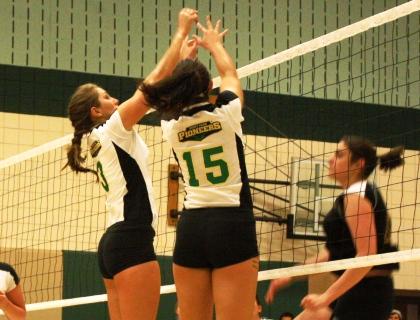 Point Park totaled 12 team blocks in Wednesday's win. Photo by Lyddia Ankrom.
WEST LIBERTY, W.Va. -- The Point Park University volleyball team tied a program record with its 32nd victory of the season, a 3-0 non-conference win at West Liberty Wednesday night.
The Pioneers (32-5, 8-1 AMC) matched the 2009 team for most wins in a single season by taking care of the the NCAA Division II Hilltoppers (9-17) by scores of 25-11, 25-14, 25-17.
The 2009 Point Park team ended the year at 32-8 after a run to the American Mideast Conference Tournament finals. This year's 32 wins are the most ever in the regular season.
The Pioneers will go for a school record in wins Friday in their regular-season finale versus Houghton. Point Park hosts the Highlanders at 4 p.m. for Senior Day. That match will take place in the Student Center Gym at 330 Blvd. of the Allies.
Sophomore right-side hitter Brittany Lhota, a transfer from Pitt, tied a season high with 18 kills and hit .615 for the match. Senior middle hitter Rachel Stedina, from South Beaver, Pa., had a very efficient night with nine kills and zero errors in 13 attacks for a hitting percentage of .692.
The Point Park offense convered at a high rate with an attacking percentage of .307. Conversely, the Pioneers' defense held West Liberty to .057 and just 13 total kills.
Point Park put up a big block with 12 total team blocks. Stedina led that category with seven, and Keaton Sausman was next with five. The Pioneers rank second in the NAIA in total blocks with 366.5 and third in blocks per game at 3.03.
With Lindsey Oberacker picking up two blocks to go along with her six kills and seven digs, the Pioneers now have four players with more than 100 total blocks on the year. Wurstle has 151, Lhota 125, Stedina 107 and Oberacker 101.
Tayler Pugliese totaled 38 assists, and the junior from Ashtabula, Ohio, entered this week ranking fourth in the country in total assists. Libero Alyssa Hall had a team-high 14 digs, and Amanda Ardinger added eight. Brigette Jones chippled in seven kills and three blocks.
On Senior Day Friday, the Pioneers will honor their two seniors, Stedina and Cassandra Maxwell.
A special promotional giveaway will be held for Point Park students in attendance of Friday's match. Point Park's United Student Government will giveaway its grand prize for the season-long Fan Pass program. Each Point Park student in attendance will get one entry toward the grande-prize drawing, and they will also get bonus entries for every Fan Pass event that they attended during the fall sports season. The winner will be announced at the end of the match. The grand prize is a $100 gift card to a department store courtesy of USG.