AVCA Regional Awards tab Bruno Coach of the Year, Oberacker & Lhota First Team
Nov. 30, 2011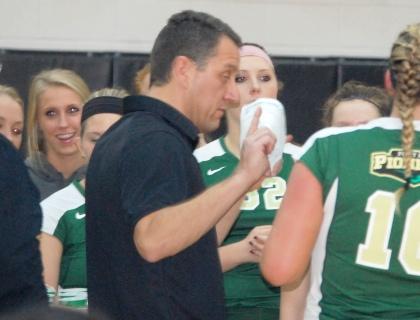 Point Park's Mike Bruno was named the AVCA NAIA Northeast Region Coach of the Year.
PITTSBURGH -- The American Volleyball Coaches' Association announced its AVCA NAIA All-Region awards on Wednesday (Nov. 30), and Point Park was well-represented in the Northeast Region. Pioneers head coach Mike Bruno was named the AVCA NAIA Northeast Region Coach of the Year while Lindsey Oberacker (OH) and Brittany Lhota (MH/RS) were named to the AVCA NAIA All-Northeast Region Team. Tayler Pugliese (S) was named Honorable Mention team.
To view the complete list of AVCA NAIA Regional Awards, click here
There were 14 players on the AVCA NAIA All-Northeast Region Team and eight players who were honorable mention. With Oberacker and Lhota on the all-region team, Point Park and Indiana-East were the only schools to have multiple players on the squad.
Bruno was named Region Coach of the Year for the first time in his career after leading the Pioneers to a record of 36-6 and an appearance in the NAIA National Championship Tournament. In this his seventh season at Point Park, he was named the American Mideast Conference Coach of the Year. The 36 wins are the most-ever at Point Park, and they are tied for the most by a Bruno-led team. Bruno is from Apollo, Pa., and a resident of Cecil, Pa.
The national tournament appearance was the first-ever for Point Park as was the American Mideast Conference Tournament Championship that it won Nov. 8. Point Park lost at #17 Indiana Tech in the NAIA National Championship Opening Round Nov. 19.
Oberacker, the 2011 American Mideast Conference Player of the Year, earned AVCA NAIA All-Northeast Region honors for the second time in her career and the second year in a row. The 6-0, junior outside hitter from Erie, Pa., was one of the top players in the NAIA with 556 kills, a .318 attacking percentage, 378 digs and 110 blocks.
Lhota, who like Oberacker was an All-American Mideast Conference First Team selection, is a 6-2, middle/right-side hitter from Latrobe, Pa. A sophomore who transferred from the University of Pittsburgh, Lhota compiled 388 kills, 136 blocks and a team-high .358 attack percentage. She played middle hitter the first part of the year and right-side hitter the last half of the season.
Pugliese, a 5-7 junior from Ashtabula, Ohio, was the AMC Setter of the Year and an All-AMC First Team choice. She earned all-region honorable mention honors with 1,575 assists and 257 digs. She transferred this year from Notre Dame (OH) and ranked third in the NAIA in total assists.
Point Park individuals will likely have consideration for NAIA All-American honors, which will be announced during this the week of the NAIA National Championship in Sioux City, Iowa (Nov. 29 to Dec. 3).