Lindsey Oberacker named Capital One Academic All-America First Team
Dec. 12, 2011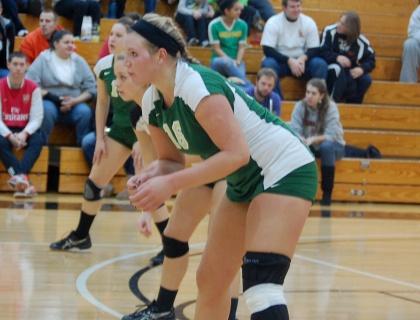 Lindsey Oberacker is a 2011 Capital One Academic All-America (c) College Division First Team selection.
PITTSBURGH -- Point Park University outside hitter Lindsey Oberacker has been named to the 2011 Capital One Academic All-America (c) College Division Volleyball First Team as selected and announced by the College Sports Information Directors of America on Monday (Dec. 12).
The College Division portion of the Capital One Academic All-America (c) program is comprised of student-athletes at NAIA, Canadian and junior colleges.
Oberacker is a junior outside hitter from Erie, Pa. The graduate of McDowell High School owns a 3.94 GPA in biology.
To be eligible for Capital One Academic All-America (c) honors, student-athletes must first have a GPA of at least 3.30 on a 4.0 scale. Then, they must be selected to the Capital Academic All-District (c) First Team, as Oberacker was.
Voting on the district and All-America levels is done by members of CoSIDA. Taken into consideration are not only a student-athlete's grades, but also their playing ability. Thus, the Capital One Academic All-America (c) First Team represents the best the nation has to offer in the classroom and on the court.
Oberacker is one of seven players on the first team. Columbia (Mo.) setter Paula Ferreira was singled out as the Capital One Academic All-American of the Year.
Oberacker's awards for the 2011 season also include being named NAIA Honorable Mention All-American, AVCA-NAIA All-Northeast Region First Team, American Mideast Conference Player of the Year, All-AMC First Team and NAIA Scholar-Athlete. She is a three-time all-conference player and a two-time all-region performer.
She ranked fifth in the NAIA with a career-high 556 kills. Her 3.92 kills per game ranked 18th nationally. Oberacker led Point Park (36-6) to its first conference title and its first national tournament appearance with the following statistics: .318 attacking percentage, 378 digs, 110 blocks and 58 service aces.
LINDSEY OBERACKER AWARDS -- 2011 Season
Capital One Academic All-America College Division First Team
Tachikara-NAIA Honorable Mention All-American
AVCA-NAIA All-Northeast Region First Team
American Mideast Conference Player of the Year
All-AMC First Team
NAIA Scholar-Athlete
CoSIDA Academic All-District First Team
Team Captain