Point Park's Oberacker named NAIA Volleyball Honorable Mention All-American
Dec. 5, 2011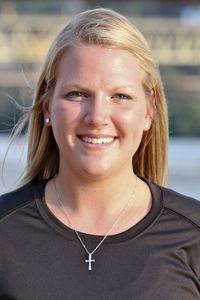 PITTSBURGH -- Point Park University outside hitter Lindsey Oberacker was named a 2011 Tachikara-NAIA Volleyball Honorable Mention All-American as chosen by the NAIA Volleyball All-America Selection Committee and announced by the NAIA office on Monday (Dec. 5, 2011).
Oberacker is a 6-0 junior from Erie, Pa., and a graduate of McDowell High School. The NAIA Honorable Mention All-American honor goes along with her other awards this year that include AVCA All-Northeast Region First Team, American Mideast Conference Player of the Year, All-AMC First Team, NAIA Scholar-Athlete and CoSIDA Academic All-District First Team.
Oberacker ranked fifth in the NAIA in total kills with a career-high of 556. Her 3.92 kills per set ranked 18th nationally. She led Point Park (36-6) to the NAIA national tournament with a .318 attacking percentage, 378 digs, 110 blocks and 58 service aces.
She is a three-time all-conference player and a two-time AVCA all-region player. A three-year starter, she has been the Pioneers' top offensive threat the past two years.
In addition to her work on the volleyball court, Oberacker is an excellent student. She has a 3.94 GPA as a Biology major.
For a complete list of Tachikara-NAIA Volleyball All-Americans, click here.
Below is a summary of her long list of awards for the 2011 season:
LINDSEY OBERACKER AWARDS -- 2011 Season
Tachikara-NAIA Honorable Mention All-American
AVCA-NAIA All-Northeast Region First Team
American Mideast Conference Player of the Year
All-AMC First Team
NAIA Scholar-Athlete
CoSIDA Academic All-District First Team
Team Captain