Point Park volleyball starts season with a pair of strong NAIA victories
Aug. 26, 2011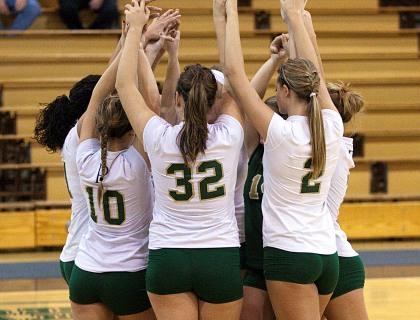 Photo by Chelsey Engel
BOX SCORE vs. Asbury, BOX SCORE vs. Union
RIO GRANDE, Ohio -- Point Park University volleyball started off its season in strong fashion by picking up a pair of good NAIA victories at the Aces in August Classic hosted by the Univ. of Rio Grande Friday. The Pioneers (2-0) topped Asbury (Ky.), 3-2, in an exciting five-setter and then dispatched 2010 national tournament participant Union (Ky.), 3-0, later in the night.
The win over Asbury marked a couple of milestones for Point Park head coach Mike Bruno, who picked up career win No. 250 in his 400th career match as a head coach. In this his 12th year overall and seventh at Point Park, Bruno's record now stands at 251-150 (135-92 at PPU).
Asbury (0-1) was coming off a 33-5 campaign in 2010 and missed the NAIA tourney by just one match last year. Union (0-2), 25-13 a year ago, went to nationals each of the last two years.
Point Park was rated in the 'others receiving votes' section of the NAiA Volleyball Coaches' Preseason Top 25 Poll and can improve on that resume with a good performance Saturday. The Pioneers face host Rio Grande at 10 a.m. before the tournament phase of the event kicks in.
At 12 p.m. Saturday are the semifinals (1 v. 4 & 2 v. 3), and the finals and consolation matches will take place at 2 p.m.
In the match vs. Asbury, Point Park took a 2-1 lead by pulling out the third set, 28-26. Although Asbury took the fourth set by a score of 25-13, Point Park pulled out a 15-11 win in the final frame. The match went Point Park's way, 25-22, 20-25, 28-26, 13-25, 15-11.
Chelsea Katkich, a sophomore outside from Imperial, Pa., led the way with 10 kills versus Asbury. Newcomer Ashley Campbell had eight kills and three blocks from the right side in her first action since transferring from Butler County CC.
Sophomore middle Nicole Wurstle totaled eight kills and eight blocks, and fellow middle Brittany Lhota had nine kills and five blocks in her first match since transferring from Pitt. Junior outside Lindsey Oberacker added nine kills, six blocks and eight digs. The Pioneers' front line put up a strong block with a total of 15 team blocks.
New setter Tayler Pugliese, a junior transfer from Notre Dame (OH), had 45 assists in her debut with the Pioneers. Alyssa Hall and Margaret Gillooly had 11 and 10 digs, respectively.
Point Park needed only three sets to beat Union, 25-17, 25-21, 25-20. The Bulldogs are the two-time defending champions of the NAIA Mid-South Conference.
Lhota came alive versus Union with 13 kills and five blocks. Lhota hit a blistering percentage of .611, and the Pioneers hit .391 as a team. Wurstle came in with six kills, four blocks and a .545 percentage. Oberacker chipped in another eight kills.
The Pioneers hit .448 the first set (13 K, 0 E, 29 TA) and .458 the second set (13 K, 2 E, 24 TA) to assert control early. Point Park totaled nine blocks as a team.
In reaching the 250-win plateau, Bruno continues his climb up the list of the winningest active coaches in the NAIA. Bruno started the year ranking among the top 25 active NAIA volleyball coaches in career wins and career winning percentage (.623).
Check back later for statistics