Point Park opens AMC play with 3-0 win over Carlow at Student Center Gym
Sept. 20, 2011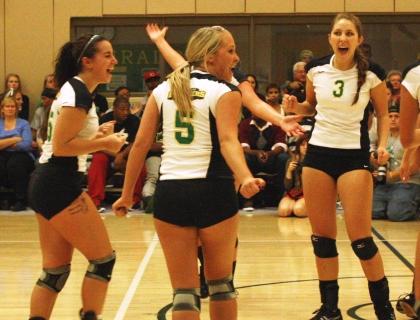 Point Park players (L to R) Tayler Pugliese, Cassandra Maxwell and Nicole Wurstle celebrate a point Tuesday vs. Carlow.
Photo by Lyddia Ankrom.
PITTSBURGH -- Point Park University opened up its American Mideast Conference volleyball schedule Tuesday night with a 3-0 win over visiting Carlow University at the Student Center Gym on the Boulevard of the Allies.
Point Park (15-3, 1-0 AMC) topped Carlow (5-8, 0-1 AMC) by scores of 25-14, 25-21, 25-13. The Pioneers improved to 2-0 all-time in the second-year building that formerly was the Downtown YMCA.
The Point Park fans were out in full force once again Tuesday night, and it was United Student Government T-Shirt giveaway night. An estimated crowd of 250 was on hand.
Point Park is 6-0 at home this year and has won 11 straight home matches dating back to last year. The Pioneers have as their primary home venue Greentree SportsPlex, and the last of three home dates in the Student Center Gym will be the regular-season finale Nov. 4 vs. Houghton (4 p.m.).
Point Park's win on Tuesday came a few hours after it learned that it was in the 'others receiving votes' section of the NAIA Volleyball Coaches' Top 25 Poll yet again. The Pioneers are in that section for the fourth week in a row. They are viewed as the 35th best team in the nation after being a previous-high 31st last week.
Point Park's slip is related to going 1-2 last week although the two losses are to a couple of the better NCAA Division II schools in the region -- at California (Pa.) and at Wheeling Jesuit. In all, three new teams joined the NAIA Top 25 this week.
Lindsey Oberacker led the attack for the Pioneers versus Carlow with 15 kills and a .520 attacking percentage. Oberacker, a junior from Erie., Pa., also added eight digs and two blocks.
Rachel Stedina, a senior, carried the load in the middle with nine blocks and five kills. Stedina had an attacking percentage of .461.
Ashley Campbell collected eight kills and three blocks from the right side. Setter Tayler Pugliese totaled 32 assists, three aces, three blocks and six digs.
Defensive players Alyssa Hall, Amanda Ardinger and Margaret Gillooly combined for 17 digs. Hall chipped in four service aces, and Point Park had nine as a team.
The Pioneers continue AMC play Thursday when they travel to Walsh. As a school that is in year two of NCAA Division II provisional status, Walsh can compete for an AMC regular season title, but it cannot compete for the conference or national playoffs.
Results versus Walsh will be considered for regular season standings, but they will not be counted when figuring out playoff qualification or seeding.
Follow us on Twitter @PointParkSports and Facebook.com/PointParkAthletics