Point Park cruises to win AMC at Houghton behind Oberacker and Lhota
Sept. 29, 2011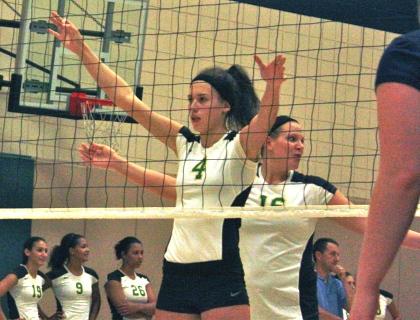 Brittany Lhota (4) and Lindsey Oberacker (back) led Point Park at Houghton Thursday. Photo by Lyddia Ankrom.
HOUGHTON, N.Y. -- Lindsey Oberacker and Brittany Lhota were just about unstoppable Thursday night, and the duo led the Point Park University volleyball team to a 3-0 victory at Houghton College in an American Mideast Conference volleyball match.
Oberacker and Lhota combined for 29 kills and one error in 46 attempts (.609) as Point Park improved to 18-4 overall and 2-1 in the conference. The Pioneers had an easier time as the match went on and won, 25-18, 25-13, 25-8.
Oberacker lit up Houghton (4-11, 1-3 AMC) for 15 kills and one error in 27 attempts (.518). Lhota was even better with 14 kills and no errors in 19 attempts (.736).
Oberacker is a junior from Erie, Pa., and McDowell High School while Lhota is a sophomore from Latrobe, Pa., who transferred in this year from Pitt.
Setter Tayler Pugliese passed out 43 assists to go along with five digs and two blocks. Libero Alyssa Hall served four aces and also picked up seven digs. Margaret Gillooly led the team with nine digs.
Point Park hit .386 as a team (49 K, 10 E, 101 TA) and totaled 44 digs and seven blocks.
Thursday's match was the first of a three-match road trip that covers three days in New York. The Pioneers visit Roberts Wesleyan in Rochester, N.Y., Friday at 7 p.m. and then travel to Daemen in Amherst, N.Y., Saturday morning at 11 a.m.
Roberts Wesleyan is 13-5 overall, 1-1 AMC. Daemen 19-7, 2-0 AMC and like Point Park is receiving votes in the NAIA Top 25 Poll.