Point Park picks up sweep at Roberts Wesleyan on Day 2 of NY road trip
Sept. 30, 2011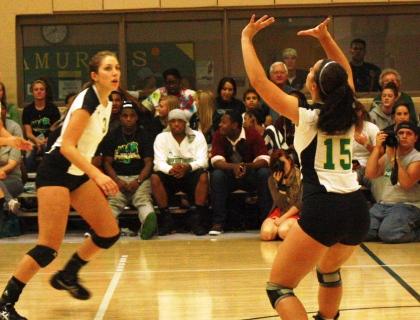 Tayler Pugliese (15) sets Nicole Wurstle in a match earlier this year. Photo by Lyddia Ankrom.
ROCHESTER, N.Y. -- Point Park University picked up a sweep at Roberts Wesleyan College, 3-0, Friday night on the second day of a three-day American Mideast Conference road trip in New York.
The Pioneers used momentum from a fast start to win the match by scores of 25-12, 25-23, 25-19. Point Park led the opening set, 15-4, at one point.
Point Park improved to 19-4 overall and 3-1 in the AMC while Roberts Wesleyan dropped to 13-6, 1-2 AMC. The Pioneers conclude their three-match road trip with a visit to Daemen Saturday at 11 a.m. Daemen is 19-7, 2-0 AMC.
Point Park started its trip with Thursday's 3-0 win at Houghton.
Lindsey Oberacker turned in 14 kills and 11 digs versus the Raiders. Chelsea Katkich recorded 10 kills, and Brittany Lhota had nine kills and three blocks.
Point Park totaled 12 blocks as a team, and Nicole Wurstle had seven blocks individually. Tayler Pugliese totaled 30 assists, six kills, four blocks and five digs. Alyssa Hall had the most digs with 12.