Pioneers complete 4-0, weekend sweep, Oberacker reaches 1,000 career kills
Sept. 3, 2011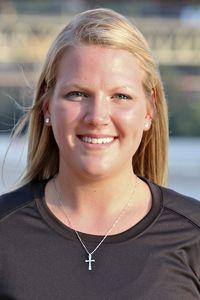 Point Park's Lindsey Oberacker had 32 kills Saturday to give her 1,023 for her career.
FAIRMONT, W.Va. -- The Point Park University volleyball team needed only 12 sets this weekend to complete a 4-0 showing at the Fairmont State Falcon Fest, an NCAA Division II event.
The Pioneers (8-1) finished off the perfect weekend with a pair of victories on Saturday -- 3-0 sweeps of West Virginia Wesleyan and Davis & Elkins. Point Park, which is 27-5 versus NCAA DII competition since the start of the 2009 season, began its weekend with sweeps of West Liberty and Pitt-Johnstown on Friday.
Also, Point Park's top outside hitter Lindsey Oberacker, from Erie., Pa., reached with the 1,000-career kill milestone with 32 kills on the day.
Point Park topped West Liberty, 34-32, 25-21, 25-13. The Pioneers downed Davis & Elkins, 25-13, 25-20, 25-14.
At 8-1, Point Park is well-situated to at least maintain or move up its positioning in the NAIA national rankings. The Pioneers were in the 'others receiving votes' section of the national preseason poll (Aug. 16) when they were rated by NAIA coaches as the 35th best team in the country. The first NAIA Volleyball Coaches' Top 25 Poll of the regular season comes out on Tuesday, Sept. 6.
Point Park and Edinboro, one of the top NCAA D2 programs in the region, were the only teams at the event to go 4-0 on the weekend.
Oberacker, a junior outside hitter and a product of McDowell High school, once again had a big day with 17 kills versus West Virginia Wesleyan and 15 more versus Davis & Elkins. The 32 kills on the day give her 1,023 for her career. She put up 415 kills as a freshman, 488 as a sophomore and 120 so far this year. She is a two-time all-conference selection and an AVCA All-Region choice last season.
Point Park's middle hitters, Brittany Lhota and Nicole Wurstle combined for nine blocks. Lhota had five blocks and six kills while Wurstle had four blocks and seven kills. Chelsea Katkich had six kills and four blocks, and Ashley Campbell picked up four kills.
Setter Tayler Pugliese totaled 41 assists and a team-high 12 digs.
The first set versus W.V.Wesleyan went on and on before ending at 34-32. The match was being goverened by NCAA rules, which limit subs to 12 per set although NAIA rules allow for unlimited subs. Back row players Margaret Gillooly and Amanda Ardinger found themselves up front at times in that set because the team ran out of subs.
Versus Davis & Elkins, Katkich totaled 10 kills. Pugliese had 33 assists and nine digs. Alyssa Hall led the defense with 13 digs, and Gillooly had 12. Up front, Lhota contributed four blocks.
Up next for the Pioneers is the first home sporting event ever on Point Park's campus. The Pioneers will play Pitt-Johnstown Tuesday, Sept. 6 in the Point Park Student Center Gym, the first time that an intercollegiate contest will take place at the school's Downtown Pittsburgh campus. The Student Center is the former Downtown YMCA Building located at 330 Blvd. of the Allies. The gym is on the fifth floor. Tip off is 7 p.m.