Point Park U. volleyball to make history with match in Student Center Gym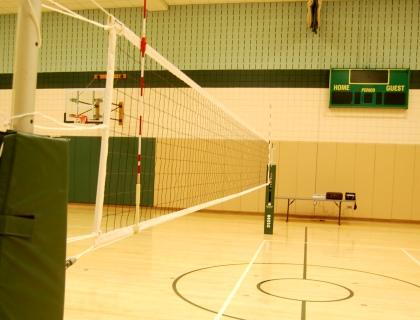 Point Park vs. Pitt-Johnstown, Tue., Sept. 6, 2011 (7 p.m.)
Point Park Gold Team vs. Wheeling Jesuit, Tue., Sept. 6, 2011 (4 p.m.)
PITTSBURGH -- When the Point Park University volleyball team takes the floor in the Student Center Gym on Tuesday (Sept. 6), it will be making history. The Pioneers will play the first-ever intercollegiate sporting event in one of the school's buildings on campus.
The Pioneers (8-1) welcome Pitt-Johnstown for that historic match Sept. 6 at 7 p.m. Point Park's Gold Team will get things started with a matchup against the Wheeling Jesuit JV squad Sept. 6 at 4 p.m.
The Student Center Gym is located at 330 Blvd. of the Allies, Downtown Pittsburgh, 15222. The gym is on the 5th floor of the Student Center, which was formerly the Downtown YMCA.
Admission is free to both matches. Spectators are encouraged to get there early.
Parking is available at Downtown Pittsburgh parking meters, which need to be paid until 10 p.m. on weekdays. Additional parking is available in public parking garages, with nearby ones being on Third Avenue and the Boulevard of the Allies.
Live updates of the matches will be posted at www.twitter.com/pointparksports. Point Park's student radio station, WPPJ-AM 670, is planning a live broadcast. Details about the radio broadcast will be available Tuesday.
Find this event on Facebook: http://www.facebook.com/event.php?eid=159256594155568
Point Park Volleyball in the Student Center Gym:
Match times: Gold Team vs. Wheeling Jesuit (4 p.m.), Point Park vs. UPJ (7 p.m.)
Location: Student Center Gym (5th floor of Student Center)
Address: 330 Blvd. of the Allies, Pittsburgh, PA  15222
Admission: Free
Parking: Metered parking (must pay until 10 p.m.), Nearby garages