Pioneers open Student Center Gym with 3-0 sweep of visiting Pitt-Johnstown
Sept. 6, 2011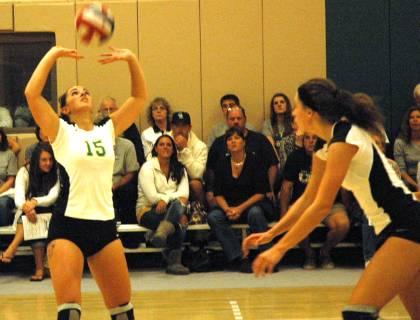 Point Park setter Tayler Pugliese (15) sets middle hitter Brittany Lhota Tuesday at the Student Center. Photo by Richard Finch.
PITTSBURGH -- Playing the first-ever athletic event in an on-campus building, the Point Park University volleyball team swept Pitt-Johnstown, 3-0, Tuesday night before a packed crowded at the Student Center Gym.
It was first athletic event of any kind in a Point Park building, and it was the first of three volleyball dates in the second-year building this season. The Student Center, formerly the Downtown YMCA, officially opened in the fall of 2010. Point Park's primary home volleyball venue is Greentree SportsPlex, but matches on Sept. 20 (vs. Carlow) and Nov. 4 (Houghton) will also be played at the Student Center Gym.
Point Park (9-1) easily took care of Pitt-Johnstown by scores of 25-15, 25-13, 25-15. The victory over the NCAA Division II Mountain Cats improved Point Park to 28-5 versus NCAA DII schools since the start of the 2009 season. Point Park is 70-19 in that span overall.
The win makes Point Park 1-0 in the Student Center, and continues is non-conference, home winning streak to 15 matches. The Pioneers have not lost a home match to a non-conference opponent since Sept. 10, 2008 vs. Slippery Rock.
In the NAIA Volleyball Coaches' Top 25 Poll released Tuesday evening, Point Park is once again in the 'others receiving votes' area. The Pioneers were rated as the 33rd best team in the country this week after being viewed as the 35th best team in the preseason poll (Aug. 16).
Lindsey Oberacker led Point Park with 10 kills and also picked up nine digs and four blocks versus Pitt-Johnstown. Setter Tayler Pugliese handed out 32 assists. Alyssa Hall led the defense with 14 digs. Providing a presence in blocking were middle hitters Nicole Wurstle and Brittany Lhota with four and three blocks, respectively.
Lhota chipped in seven kills, and Chelsea Katkich and Pugliese had five each.
Point Park hit a very impressive attacking percentage of .428 as a team, which included .480 in the second set and .476 in the third. Point Park had 23 kills versus just one error the final two sets.  
A strong home crowd was on hand and attendance was estimated at 300. The crowd was standing-room only and was filled with Point Park students.
Point Park is back in action this Friday and Saturday when it hosts the Pioneer Invitational at Greentree SportsPlex. The Pioneers play two games each day at 10 a.m. and 4 p.m. The tournament field consists of Carlow, West Liberty, Ohio Valley and Notre Dame (OH).
Fan Vans will be available for Point Park students to the 4 p.m. matches on Friday and Saturday. Check the volleyball website or the Point Park athletic social media platforms for details about Fan Vans.