Point Park's Oberacker named the first AMC Volleyball Player of the Week for 2011
Sept. 7, 2011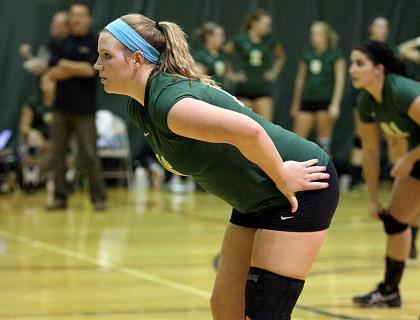 Photo by Chelsey Engel

PITTSBURGH -- Point Park University junior outside hitter Lindsey Oberacker has been named the first American Mideast Conference Volleyball Player of the Week for the 2011 season, the league announced Wednesday. Oberacker, from Erie., Pa., and McDowell High School, won the award for her play Aug. 29 to Sept. 4.
Oberacker earned the award for the first time in her career by putting up big numbers last weekend at the Fairmont State Falcon Fest, an NCAA Division II event. Oberacker led Point Park to a 4-0 weekend by totaling 56 kills in just 12 sets and coming up with an impressive hitting percentage of .414.
Oberacker averaged 4.67 kills and 2.92 digs per set. Her 56 kills came against just 10 errors in 111 attempts. Oberacker also added nine blocks and six aces on the weekend.
She surpassed the 1,000-career kill milestone last Saturday. To date, Oberacker has 1,033 kills, which includes 130 kills in 10 matches so far this year. She put up 488 kills as a sophomore and 415 kills as a freshman. Oberacker is a two-time All-AMC player and an AVCA-NAIA All-Northeast Region player last year.
Point Park is 9-1 on the year and host the Pioneer Invitational this Friday and Saturday at Greentree SportsPlex.