Point Park (36-5) at #17 Indiana Tech (33-5), NAIA Volleyball Opening Round
Nov. 19, 2011 (1 p.m.) at Fort Wayne, Ind.
LIVE AUDIO ,  LIVE STATS , TEAM MATCHUP  
For complete info on the 2011 NAIA Volleyball National Championship, CLICK HERE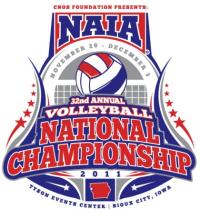 FT. WAYNE, Ind. -- Point Park University visits Indiana Tech on Saturday, Nov. 19 (1 p.m.) in the 2011 NAIA Volleyball National Championship Opening Round. The winner advances to the final site in Sioux City, Iowa, Nov. 29-Dec. 3.
Fans can follow Saturday's action with Live Audio courtesy of Indiana Tech's Stretch Internet and also Live Stats courtesy the NAIA and Dakstats. Links to live coverage are at the top of this page.
Point Park is 36-5 overall and is the champion of the American Mideast Conference and the Unaffiliated Group consisting of the AMC and California-Pacific Conference. The Pioneers, who were 9-1 in the AMC regular season, beat Daemen, 3-1, in the AMC Tournament Finals before dispatching Holy Names (Calif.), 3-1, in the Unaffiliated Group championship match.
Indiana Tech is 33-5 overall and is the champion of the Wolverine-Hoosier Athletic Conference. The Warriors had a perfect, 9-0 record in the WHAC regular season and are currently ranked No. 17 in the NAIA Top 25 Poll. This the fourth year in a row that Indiana Tech is in the NAIA National Championship, and it advanced to the final site twice.
The Point Park-Indiana Tech match is one of 12 Opening Round matches around the country on Saturday. There are four that start between 12-1 p.m., four that start between 2-3 p.m. and four that start between 6-7 p.m. The 12 winners Saturday join the 11 teams that got a bye and also host team Morningside in Sioux City starting Nov. 29.
Point Park has won 21 of its last 22 matches with the only loss being 3-2 at Gannon, an NCAA Division II national tournament qualifier. The Pioneers have been in the 'others receiving votes' section of the NAIA Top 25 Poll all year, including this week when raters had them as the No. 32 team in the country.
This is the first time that Point Park is in the national tournament, and it won the first conference title in school history on its home court Nov. 8.
The following is a look at the key players in the matchup between Point Park and Indiana Tech:
POINT PARK (36-5) -- Lindsey Oberacker (OH) is the AMC Player of the Year with 544 kills (.322 Attack), 365 digs and 108 blocks. Oberacker is fourth in the country in total kills and 18th in kills per set (3.94)
AMC Setter of the Year Tayler Pugliese (S) directs the offense with 1,533 assists (10.95 per set). She ranks third in the NAIA in total assists and 10th in assists per set.
Brittany Lhota (RS) has 370 kills (.362 Attack) and 136 blocks. Nicole Wurstle (MH) has 194 kills and is fifth in the NAIA with 163 total blocks. Rachel Stedina (MH) has 109 kills and 126 blocks in just 97 sets. She is 11th in the nation in blocks per set
The back row is held down by a trio of three-year starters -- Alyssa Hall (644 digs), Amanda Ardinger (437 digs) and Margaret Gillooly (348 digs).
Named to the All-AMC First Team were Oberacker (OH), Pugliese (S), Lhota (RS) and Wurstle (MH). Stedina (MH) was All-AMC Honorable Mention. Seventh-year head coach Mike Bruno was named the AMC Coach of the Year this season. He has led the Pioneers to a record of 97-24 the last three years.
Point Park's NAIA team statistcal rankings are as follows: 2nd in total blocks (414.50), 3rd in blocks per game (3.00), 8th in total assists (1,717), 8th in total kills (1,853), 10th in attacking percentage (.286) and 21st in kills per game (13.43).
#17 INDIANA TECH (33-5) -- Senior outside hitter Ashley Hamilton was the WHAC Player of the Year with 380 kills and 505 digs. Melanie Forman, a senior, was the WHAC Setter of the Year with 1,378 total assists. She ranks second in the NAIA with 11.78 assists per set.
Senior Kayla Hartman was the WHAC Libero of the Year with a team-high 598 digs. Kelsey Cox, a junior middle blocker who stands 6-2, was WHAC Honorable Mention. Cox has 303 kills and ranks ninth in the country with a .380 attacking percentage.
Indiana Tech's NAIA team statistical rankings are as follows: 3rd in assists per game (13.12), 4th in digs per game (20.12), 7th in kills per game (13.98), 12th in total digs (2,515), 16th in total assists (1,640) and 19th in total kills (1,748).