Point Park rolls past Carlow, improves to 29-4 with its 14th straight victory
Oct. 18, 2011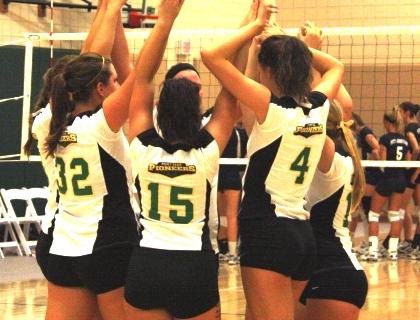 Photo by Lyddia Ankrom. 
PITTSBURGH -- The Point Park University volleyball team put up an attacking percentage of .481 on its way to its 14th consecutive victory, a 3-0 sweep at American Mideast Conference foe Carlow University on Tuesday night.
Point Park (29-4, 8-1 AMC), which entered the night tied for the most victories in the NAIA this season, won the match by scores of 25-14, 25-13, 25-15.
With their 14th straight win, the Pioneers are one match away from tying the school record for consecutive victories set during the 2009 season. Point Park is just three wins shy of matching the 2009 team for most wins in a season.
In the NAIA Volleyball Coaches' Top 25 Poll released Tuesday, Point Park was rated as the 31st-best team in the country. The Pioneers have been in the 'others receiving votes' section of every ranking so far this year.
Point Park's victory over Carlow (6-17, 0-8 AMC) included 43 kills and just six errors in 77 attempts. That amounts to a very impressive team hitting percentage of .481.
The Pioneers' two biggest offensive weapons were particularly effective as Lindsey Oberacker (OH) and Brittany Lhota (RS) combined to hit .540. Those two put up 21 kills and just one error in 37 attacks.
Lhota, a sophomore from Latrobe, Pa., posted 11 kills and four blocks. Oberacker, a junior from Erie, Pa., had 10 kills and four blocks.
Setter Tayler Pugliese tallied 40 assists. Rachel Stedina had eight kills and eight blocks, while fellow middle hitter Nicole Wurstle added four kills and five blocks. The back row got nine digs from Margaret Gillooly and eight from Alyssa Hall.
Point Park is in action this Saturday at the Davis & Elkins tri-match. The Pioneers will see host Davis & Elkins and also Bluefield State.
Point Park has one AMC match remaining -- Nov. 4 at home versus Houghton. Regardless of the outcome of that match, Point Park is ensured to host the AMC Volleyball Tournament Nov. 8. The four-team, single-elimination playoff tournament will have two semifinals and the final that day.
Information about the AMC Volleyball Tournament can be found on the Point Park athletics website in the coming weeks.
Follow us on Twitter @PointParkSports and Facebook.com/PointParkAthletics