Point Park takes two at D&E Tri-Match, improves to 31-4 on the year
Oct. 22, 2011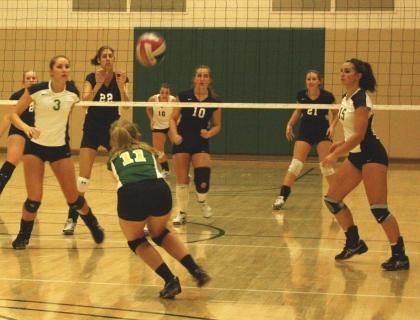 ELKINS, W.Va. -- The Point Park University volleyball team won both of its matches at the Davis & Elkins tri-match Saturday to improve its record to 31-4 overall. Point Park beat host Davis & Elkins, 3-1, and then beat Bluefield State, 3-0. Both of Saturday's opponents hail from the NCAA Division II ranks.
The victory over Davis & Elkins came by scores of 25-18, 25-15, 18-25, 25-20. Davis & Elkins is 10-21 on the year. Point Park beat Bluefield State (0-19) by scores of 25-11, 25-6, 25-12.
The Pioneers increased their win streak to 16 straight matches, which bested the previous school record for consecutive wins by one. Point Park is just one victory shy of the program record for wins in a season.
Brittany Lhota and Lindsey Oberacker each posted 18 kills in the win over D&E. Those two combined for just three errors in 61 attacks for a combined hitting percentage of .540.
Alyssa Hall had a team-high 17 digs, and Tayler Pugliese put up 45 assists, eight digs and four kills. Rachel Stedina led the block with six, and Nicole Wurstle had five.
Point Park had plenty of players see action versus Bluefield State, including both of its setters. Pugliese had 18 assists and seven kills while Amanda Pato had 15 assists. Oberacker turned in nine kills whilte Ashley Campbell and Chelsea Katkich totaled seven kills apiece.
Point Park continues play against NCAA Division II schools when it visits a strong Gannon University team Tuesday night at 6 p.m.
Point Park, which is 8-1 in the American Mideast Conference, has already wrapped up the right to host the conference playoff tournament Nov. 8. The Pioneers will host the four-team, single-elimination tourney in its Student Center Gym. The semifinals will be at 12 p.m. and 2 p.m. with the championship match at 6 p.m.