Point Park's 16-match win streak comes to an end with five-set loss at Gannon
Oct. 25, 2011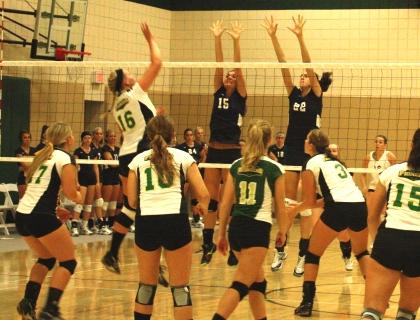 Photo by Lyddia Ankrom.
ERIE, Pa. -- Point Park University had its 16-match volleyball winning streak end with Tuesday's 3-2, non-conference loss at Gannon University.
Point Park (31-5) lost for just the fifth time all year and the first time since having its record drop to 15-4 with a loss at Walsh Sept. 22. The 16 consecutive wins set a school record.
Gannon (19-7), a very strong team that is tied for the lead in the rugged NCAA Division II Pennsylvania State Athletic Conference West Division at 13-2, escaped with the victory, 26-28, 25-21, 19-25, 25-23, 15-8.
Each of Point Park's losses have come against strong teams including Gannon (19-7), Wheeling Jesuit (22-3), California (Pa.) (23-4), Walsh (20-3) and a Rio Grande (16-13) team that caught Point Park on the second day of the season and in its third match in a single day in five sets.
Point Park 's Lindsey Oberacker, a native of Erie, Pa., and a graduate of McDowell High School, was playing in her hometown at Gannon. The junior outside hitter came through with 13 kills, 16 digs, five blocks and six aces.
Brittany Lhota totaled a team-high 17 kills. Tayler Pugliese, a junior setter, posted 41 assists, 10 digs, seven kills and three blocks. Nicole Wurstle added five blocks, and Rachel Stedina had three.
Alyssa Hall tallied 25 digs, and Amanda Ardinger totaled 16.
Gannon, which came alive in the fifth set for a .353 hitting percentage, got 18 kills from Lauren Sazamaa and another 13 kills from Kara Cullen. Claren Harris added 12 big blocks.
The 31 victories for Point Park are still the most in the regular season in school history and the second most in all of NAIA volleyball. The Pioneers trail the 2009 Point Park team for most overall wins in a season by one.
Despite being 31-4 to start the week, it was not enough for Point Park to break through the national rankings, and instead they are left in the 'others receiving votes' section of Tuesday's NAIA Volleyball Coaches' Top 25 Poll. The Pioneers are rated as the 31st-best team in the country and have received votes in every ranking this year.
Point Park's next match is Nov. 2 at West Liberty (7 p.m.). The Pioneers conclude the regular season Nov. 4 with a Senior Day matchup with American Mideast Conference foe Houghton. Match time for that one is 4 p.m. in the Student Center Gym.
Point Park has already locked up the right to host the AMC playoff tournament, which will be held Nov. 8 in the Student Center. The four-team, single-elimination event will have semifinals at 12 p.m. and 2 p.m. and the championship match at 6 p.m.
Notes: In Tuesday's match at Gannon, senior middle hitter Rachel Stedina reached the 100-total block plateau this season, a career high. That now gives the Pioneers three players with more than 100 total blocks as she joins Nicole Wurstle (151) and Brittany Lhota (123). Point Park leads the NAIA in total blocks...With her 17 kills, Lhota surpassed the 300-kill mark for the year and now has 305 this season. She is hitting a team-best .356.