Point Park wins AMC Volleyball Tournament title with wins over Daemen and Carlow
Nov. 8, 2011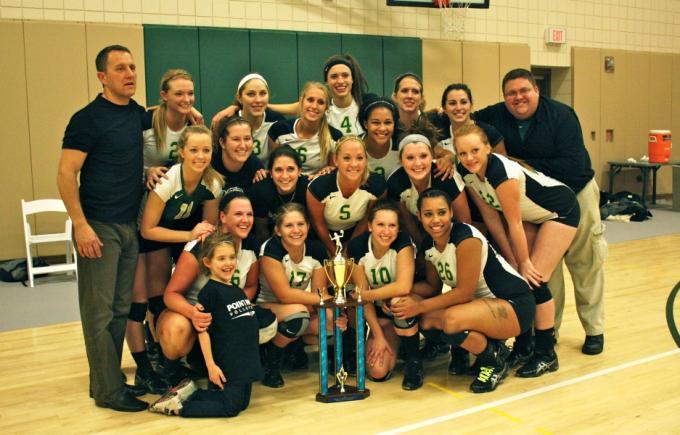 Point Park University Volleyball -- 2011 American Mideast Conference Champions. Photo by Lyddia Ankrom.
BOX SCORE vs. CARLOW

BOX SCORE vs. DAEMEN

Listen Live Online: Unaffiliated Group Match (Nov. 12), 4 pm (ET) on WPPJ Radio:
www.wppjradio.com
PITTSBURGH -- Point Park University beat Daemen College, 3-1, Tuesday night at the Student Center Gym to capture the American Mideast Conference Volleyball Tournament Championship.
The Pioneers (35-5), the top seed, beat second-seeded Daemen (26-15) in the finals by scores of 25-17, 16-25, 25-21, 25-21, to win the first conference title in school history.
Point Park had beaten Carlow, 3-0, earlier in the day in the semifinals of the four-team, single-elimination tournament. The Pioneers won that won easilty, 25-17, 25-6, 25-8.
Daemen beat Roberts Wesleyan (19-13) in the other semifinal, 3-2.
Point Park advances to the Unaffiliated Group championship match, which it will host in the Student Center Gym on Saturday (Nov. 12). The time of the match is 4 p.m., and the opponent is Holy Names (Calif.), the champion of the California-Pacific Conference. The match will air on live internet radio on the student station WPPJ 670-AM at www.wppjradio.com.
Related Story: Unaffiliated Group match information
Point Park and Holy Names will play for the right to advance to the NAIA Opening Round portion of the national tournament.
The American Mideast Conference and the California-Pacific Conference form an Unaffiliated Group because both leagues fall one school short of the required six schools to have an automatic bid to nationals. Instead, the form an Unaffiliated Group, which qualifies one bid to the NAIAs.
Lindsey Oberacker had 18 kills and 12 digs for the Pioneers versus Daemen. Nicole Wurstle and Brittany Lhota each had 11 kills. Tayler Pugliese posted 42 assists, eight digs and five blocks. Libero Alyssa Hall chipped in a team-high 13 digs.
Oberacker had 14 kills and zero errors in just 18 attempts versus Carlow. With her 32 kills on the day, she eclipsed the 500-kill mark for the year and now has a career-high 526 in 2011.
Lhota added 11 kills, and Point Park's middle hitters Wurstle and Rachel Stedina were very efficient. Wurstle needed only nine attacks to pick up eight kills. Stedina had five kills, zero errors and 10 attempts to go along with eight blocks.
Check the Point Park volleyball website Wednesday for a time of Saturday's match.