Point Park head coach Mike Bruno welcomed to AVCA's 300 Victory Club
Dec. 14, 2012 at 1:15 p.m. ET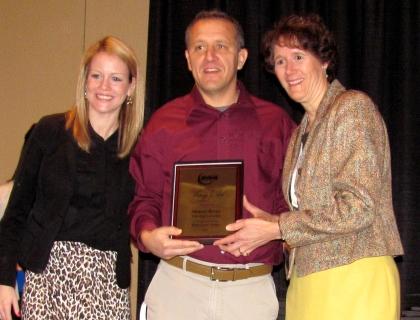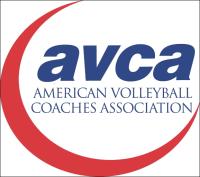 Point Park head coach Mike Bruno receives his AVCA 300 Victory Club award from AVCA President and University of Louisville head coach Anne Kordes (left) and AVCA Executive Director Kathy DeBoer. Photo by Neal Brown.
LOUISVILLE, Ky. -- Point Park University volleyball head coach Mike Bruno was welcomed into the American Volleyball Coaches Association's 300 Victory Club on Friday morning (Dec. 14) at an awards breakfast at the AVCA Convention in Louisville, Ky.
Bruno, in his eighth year at Point Park, was recognized in front of his peers at the convention after picking up his 300th career win Sept. 27, 2012 at Ursuline. Bruno and assistant coach Neal Brown are in Louisville this week building on the success of the Pioneers' 30-10 record in 2012. Coach Brown submitted Bruno's name to be recognized.
Bruno is 315-166 (.654) in his 13 years as a collegiate volleyball head coach. In his eight years at Point Park, he is 199-108. Before coming to Point Park for his first year of 2005, he amassed a record of 116-58 in five years at NCAA Division III Waynesburg University from 2000-04.
Bruno has been named a conference coach of the year five times in his career including twice at Point Park as the AMC Coach of the Year in 2011 and 2006 (AMC North C.O.Y.). He was the AVCA-NAIA Northeast Region Coach of the Year in 2011 when he led the Pioneers to a record of 36-6 and a berth in the NAIA national tournament as the AMC champions.
Visit the AVCA homepage for more: AVCA.org
Follow the Pioneers on Twitter @PointParkSports and @PointParkVB