#2 Point Park opens KIAC Tournament with win over #7 Carlow, moves on to Semis
Nov. 9, 2012 at 10:00 p.m. ET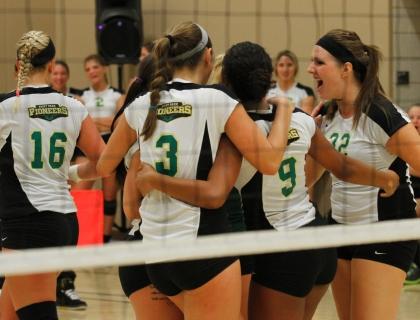 Photo by Evan Skowvron.
KIAC Tournament -- Nov. 9-10 at Cincinnati Christian
Quaterfinals
Nov. 9 -- #2 Point Park def. #7 Carlow, 3-0 (25-15, 25-13, 25-10)  BOX SCORE
Semifinals
Nov. 10 -- #2 Point Park def. #3 Asbury, 3-0 (25-11, 25-23, 25-18)  BOX SCORE
Finals
Nov. 10 -- #1 IU East def. #2 Point Park, 3-2 (25-11, 27-25, 25-16, 25-17, 15-10)  BOX SCORE

KIAC BRACKET   KIAC STANDINGS   KIAC STATISTICS   NAIA TOP 25

CARLOW WIN RECAP
CINCINNATI, Ohio -- NAIA No. 24 Point Park University opened the KIAC Volleyball Tournament on Friday night with a 3-0 win over Carlow. Point Park, the No. 2 seed, beat No. 7 seed Carlow, 25-15, 25-13, 25-10.
The Pioneers spread around the offense as Lindsey Oberacker (OH), Nicole Wurstle (RS) and Livia Caluori (MH) had 10 kills apiece with only three errors between them. Setter Tayler Pugliese passed out 35 assists.
Point Park (29-9, 9-1 KIAC) moves on the semifinals on Sat., Nov. 10 where it will meet No. 3 seed Asbury (Ky.) (27-11, 7-3 KIAC) at 11 a.m.
Asbury, which like Point Park had a bye in the 11-team, single-elimination tourney, beat Brescia (Ky.), 3-0, in another quarterfinal match on Friday. The tournament is being hosted by Cincinnati Christian University.
The top four seeds in the tournament have made it to the final four as the other semifinal will pit #1 IU East (41-3) vs. #4 IU Southeast (17-14) at 9 a.m. The KIAC Finals are scheduled for No. 10 at 3 p.m. Download the complete bracket at the link above.
ABOUT THE KIAC TOURNAMENT
The KIAC Tournament champion will get the conference's automatic bid to the NAIA national tournament, which begins with the NAIA Opening Round at campus sites Nov. 17. The NAIA National Championship is Nov. 26-Dec. 1 in Sioux City, Iowa.
IU East is ranked No. 14 in the NAIA Top 25 and is the three-time defending champion. Point Park's lone KIAC loss was to the Red Wolves, 3-2 (25-18, 21-25, 14-25, 25-17, 15-10) on the road Sept. 22.
Point Park is on the same half of the bracket as tournament No. 3 seed Asbury, which although it lost at Point Park, 3-0, on Sept. 7, it is playing much better than it did early in the year. Asbury started the year 4-7, which included a 25-19, 25-18, 25-19 loss at the Point Park Tournament, but is 22-4 overall and 7-1 KIAC since.
No. 4 seed IU Southeast gave Point Park a tough match in Pittsburgh Oct. 20 but eventually lost to the Pioneers, 3-1. The Grenadiers had an identical KIAC record as Asbury at 7-3, but it fell to the No. 4 seed and the opposite side of the bracket as Point Park because of a head-to-head loss to Asbury. Point Park edged IU Southeast, 25-22, 25-23, 27-29, 25-18 in home regular season match.
Point Park is going for its second-consecutive conference title, and its first in the KIAC. Point Park won the American Mideast Conference championship in 2011, the last year the league existed. The Pioneers made the NAIA Opening Round a year ago for the first time in school history and lost at Indiana Tech, 3-1.
Follow the Pioneers on Twitter @PointParkSports and Facebook.com/PointParkAthletics