Caluori is KIAC Player of the Week again, Pioneers remain at No. 31 in NAIA Top 25
Oct. 2, 2012 at 10:30 p.m. ET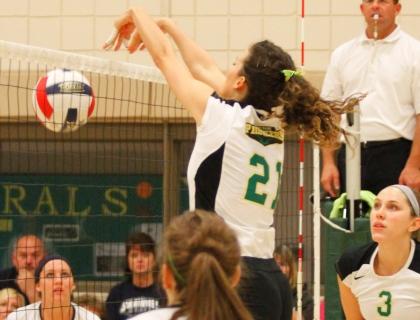 KIAC Player of the Week Livia Caluori (21) stuffs one of her 86 blocks this year. Photo by Evan Skowvron.
PITTSBURGH -- Point Park University senior middle hitter Livia Caluori, a 6-foot-3 native of Switzerland, was named the Kentucky Intercollegiate Athletic Conference Volleyball Player of the Week for games played Sept. 24-30, the league announced on Monday.
It is the second time this year that Caluori, a three-year member of the Swiss National Team, received the weekly honor. Caluori led Point Park (16-4, 4-1 KIAC) to a pair of wins over NCAA Division II opponents Ursuline (3-0) and West Virginia Wesleyan (3-0) and a perfect, 2-0 record on the week.
Caluori's strong play allowed Point Park to hold steady at No. 31 overall and in the 'others receiving votes' section of the NAIA Volleyball Coaches' Top 25 Poll released by the national office on Tuesday.
Point Park remained in the same position it was in the last two weeks, but that area of the poll got more crowded as the Pioneers are now tied with Jamestown (N.D.) and Spring (Ala.) for the 31st position.
Caluori totaled 17 kills, 13 blocks and an impressive attacking percentage of .382 for the week. She had 10 kills and two blocks in the win at Ursuline and followed that up with seven kills, 11 blocks and a .700 attack percentage versus wV Wesleyan.
Caluori ranks seventh in the NAIA in hitting percentage at .389 and is 12th in the country in blocks per game at 1.32.
Point Park's next matches will come Oct. 5-6 at the Clearwater Christian Invitational in Clearwater, Fla.
Follow us on Twitter @PointParkSports and Facebook.com/PointParkAthletics