Point Park volleyball nationally ranked for first time at No. 25 in this week's Top 25
Oct. 30, 2012 at 8:00 p.m. ET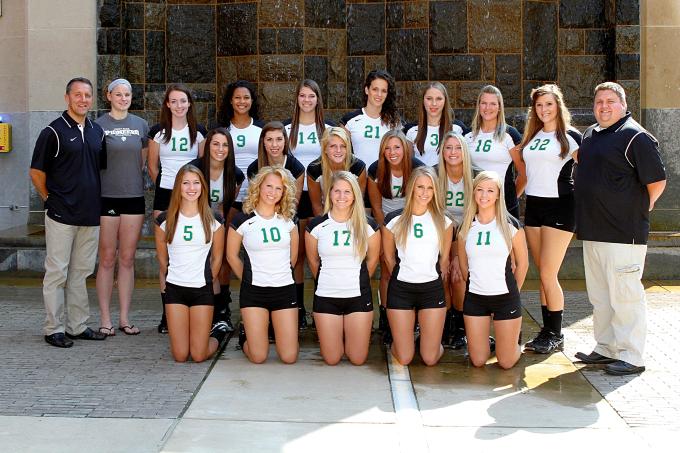 PITTSBURGH -- The Point Point Park University volleyball team has cracked the NAIA national rankings for the first time in program history as the Pioneers (26-8, 7-1 KIAC) checked in at No. 25 in the NAIA Volleyball Coaches Top 25 Poll released Tuesday (Oct. 30, 2012).
Point Park had been knocking on the door of the NAIA Top 25 for nearly two years, and it finally broke through with a strong showing last week. The Pioneers, who had been in the 'others receiving votes' section of the previous 22 polls dating back to the start of the 2011 season, were 4-2 last week including an upset of then-No. 5 Lee (Tenn.).
The win over Lee came at the Georgetown (Ky.) College Tournament Oct. 26-27, an event that had many ranked teams. The Pioneer went 2-2 there in front of an audience of some of the top teams in the country and Top 25 voters.
"It is great to be nationally ranked," said Pioneers head coach Mike Bruno. "We've been close for a while, and sometimes the longer you wait for something, the sweeter it is.
"It's a great time of year for this to happen with postseason right around the corner. And for our group of eight seniors, this is another thing in their careers that was deserving. They've certainly made their mark on this program, and now they have the first national ranking in team history as another accomplishment."
The Point Park senior class, which includes seven of Point Park's top 10 players this year, has a record of 123-32 (.790) the last four years. Point Park broke through to the national stage for the first time last year when it made the NAIA national tournament.
The Pioneers can make it a return trip to nationals if they can win the Kentucky Intercollegiate Athletic Conference Tournament Nov. 9-10. The 11-team, single-elimination tourney will qualify one team to nationals as an automatic bid. There will also be eight to nine at-large bids handed out to the 36-team national field. At-large bids are given to the top-ranked teams that don't have an automatic bid.
Point Park still has some work left in the regular season starting with its final two KIAC matches this Saturday, Nov. 3 vs. Cincinnati Christian (11 a.m.) and Alice Lloyd (1 p.m.). Point Park is currently in second place in the KIAC at 7-1, and it can lock up the No. 2 seed the conference tournament with a two-match sweep. Saturday will be Senior Day.
Point Park finishes the regular season at home on Tue., Nov. 6 vs. NCAA DII power Wheeling Jesuit, which will provide a great test prior to the KIAC tourney. Cincinnati Christian will host the KIAC Tournament Nov. 9-10.
"We feel our caliber of play is comparable to Top 25 teams," added coach Bruno. "So it's nice to see our peers are feeling the same way. And now that we are ranked, we have to continue respecting our opponent no matter who we're playing and worry about our side of the net."
Follow the Pioneers on Twitter @PointParkSports and @PointParkVB