Point Park's Wurstle named KIAC Volleyball Player of the Week (Oct. 22-28)
Oct. 30, 2012 at 9:00 p.m. ET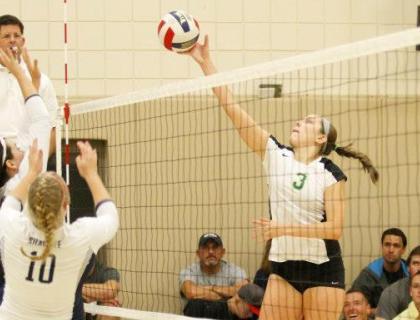 Nicole Wurstle had 58 kills and 18 blocks in six matches last week. Photo by Evan Skowvron.
PITTSBURGH -- Point Park University junior right-side hitter Nicole Wurstle has been named the Kentucky Intercollegiate Athletic Conference Volleyball Player of the Week for matches played Oct. 22-28, the league announced on Monday.
Wurstle, a native of Valley City, Ohio, had a great week highlighted by being named to the All-Tournament Team at the Boneyard Brawl hosted by NAIA No. 11 Georgetown (Ky.) College Oct. 26-27.
Wurstle led the Pioneers to a 4-2 record last week by piling up 58 kills and 18 blocks in the six matches. She hit a blistering .462 for the week. Wurstle has career-highs of 248 kills and a .439 hitting percentage this year.
For the week, Wurstle had double-digit kills in four of the six matches including an impressive 16 kills and only 19 attempts at Pitt-Johnstown for an .842 percentage. Another highlight was 10 kills, two blocks and a .529 percentage in an upset of NAIA No. 5 Lee (Tenn.) Oct. 26.
Wurstle is a big reason why Point Park ranks ninth in the NAIA in hitting percentage and blocks per game.
Follow the Pioneers on Twitter @PointParkSports and @PointParkVB