NAIA All-American Teams have Caluori 3rd Team, Oberacker Honorable Mention
Dec. 4, 2012 at 11:15 a.m. ET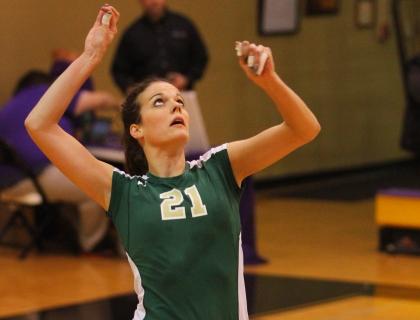 Caluori pictured above taking a serve at the KIAC Tournament. Photo by Evan Skowvron.
PITTSBURGH -- The 2012 Tachikara-NAIA Volleyball All-American Teams released Monday (Dec. 3) by the national office include Point Park University's Livia Caluori (MH, Sr.) on the NAIA All-American Third Team and Lindsey Oberacker (OH, Sr.) on the Honorable Mention list.
Caluori is a 6-3, senior middle hitter from Uzwil, Switzerland. She transferred to Point Park this year after spending the last three years playing for the Swiss National Team in her home country.
Oberacker is a senior outside hitter from Erie, Pa., who has earned NAIA Honorable-Mention All-American honors for the second year in a row. She is a three-time all-region and four-time all-conference player.
Caluori made it onto the very competitive All-American Team based largely on her ranking ninth in the NAIA in total blocks with 159 and 11th in the nation in hitting percentage (.364). She was second on the Pioneers with 342 kills and like Oberacker was named to the AVCA All-Northeast Region and KIAC All-Conference teams.
Oberacker had another strong year with 396 kills and 342 digs as one of the best all-around players in the region. Although her kill numbers were down from past years, she took on more passing duties than previously in her career. The six-rotation standout not only handled the most passes of her career, she also had a 98% receive percentage to lead the Pioneers in serve-receive.
Led by the play of Caluori and Oberacker at the net, Point Park was second in the NAIA in total blocks (375.5) and sixth in hitting percentage (.283).
There were 14 players each on the NAIA All-American First, Second and Third Teams. Caluori finished two spots ahead of Oberacker on the all-region team, and the order of the all-region selections are used for All-American consideration.
Point Park was 30-10 overall and 9-1 KIAC this year. The Pioneers were runners-up in the KIAC Tournament and earned a national ranking for the first time in program history. They checked in at No. 25 in the NAIA Top 25 Poll Oct. 30.
For the complete listing of the 2012 Tachikara-NAIA Volleyball All-Americans, click the link above.
Follow the Pioneers on Twitter @PointParkSports and @PointParkVB