Point Park volleyball schedule provides tough test of 40 matches for 2012 season
Posted July 12, 2012 at 10:30 a.m. ET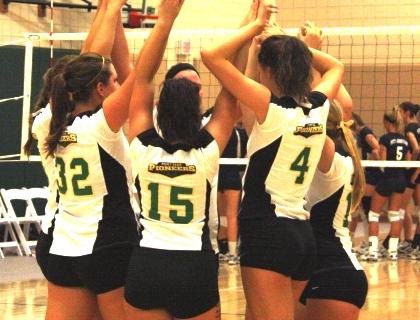 2012 SCHEDULE: VIEWABLE, PRINTABLE (PDF)
PITTSBURGH -- The 2012 Point Park University volleyball schedule will provide an experienced Pioneers team with perhaps the toughest slate that the program has ever faced.
The 40-match schedule, which was posted at www.pointpark.edu/athletics for the first time earlier this week, includes several challenges such as facing a new conference affiliation in the Kentucky Intercollegiate Athletic Conference for the first time and testing the squad versus several traditionally strong NAIA schools in the non-conference slate.
In addition to a competitive, 10-match lineup of KIAC matches, Point Park's schedule is loaded with more non-conference matches with NAIA schools than ever before. Instead of having its non-conference slate primarily made up of NCAA Division II schools in the region, the Pioneers will be better able to build their NAIA resume than in year's past. Most of the non-conference NAIA schools on the schedule are traditionally strong programs.
"Our 2012 schedule will provide us with an opportunity to springboard off last year's success and prepare us to take the program to the next level," said Mike Bruno, who will enter his eighth year as Point Park head coach.
"We will embrace each challenge as it comes, and we will continue our philosophy about the importance of conference matches. That's our focus, and we are excited about competing in the new conference, the KIAC."
The Pioneers, who have five senior starters returning from last year's team that was 36-6 and reached the NAIA national tournament for the first time, will waste no time in testing themselves versus tough NAIA competition. Point Park opens its season Aug. 24-25 at the Michigan-Dearborn Early Bird Collegiate Challenge, which has been one of the marquee events on the opening weekend of NAIA volleyball in recent years.
Testing themselves versus tough NAIA schools, particularly in the opening weekend, will allow the Pioneers to prove themselves against the NAIA's top programs. Point Park ended last year in the 'others receiving votes' section of the NAIA Top 25 Poll, and they spent the entire 2011 season there.
At the Early Bird Collegiate Challenge, Point Park will face Indiana Tech (34-8 in 2011), Cornerstone (Mich.) (31-5), Madonna (Mich.) (30-10) and Trinity International (Ill.) (14-19). Indiana Tech was rated No. 18 in the final NAIA Top 25 Poll last year and knocked off Point Park, 3-1, in the NAIA Opening Round, the first round of the national tournament.
After visiting the Fairmont State Falcon Fest Aug. 31-Sept. 1 for four matches versus NCAA DII competition, the Pioneers will host the Point Park Tournament Sept. 7-8. There, Point Park will face Asbury (Ky.) (42-11 in 2011), Northwestern Ohio (25-15), Rio Grande (21-15) and West Liberty (10-18), the last of which is from NCAA DII.
Perhaps the toughest test of the regular season will come late in the year at the Georgetown (Ky.) College Tournament Oct. 26-27. The Pioneers will meet Lee (Tenn.) (34-3 in 2011), Indiana Tech (34-8), Taylor (Ind.) (31-9) and host Georgetown (Ky.) (20-17). Lee, Indiana Tech and Taylor all made it to the NAIA national tournament last year with Lee ending up in the national semifinals and a No. 3 ranking in the Final Top 25 Poll.
Other highlights in the non-conference include a home date versus NCAA DIII power Emory (Ga.) on Oct. 17. The Atlanta, Ga.-based school was 36-8 in 2011 and is annually in contention for a national title. Emory reached the final eight last year and finished with a No. 8 national ranking.
The final non-conference test will be the regular-season finale Nov. 6 at home versus Wheeling Jesuit (W.Va.) (36-4 in 2011). The Wheeling, W.Va., school reached the final eight of the NCAA DII national tournament last year and is one of the top volleyball programs in the region.
Even with the non-conference schedule being as challenging as ever, Point Park will still have to put its focus on the conference matches. And this year brings the new challenge of finding where it matches up in the KIAC.
Point Park's 10-match KIAC schedule will feature one match versus each conferenc team except for Alice Lloyd, which does not play a KIAC schedule. There are five home matches, three road matchs and two neutral sites included.
The KIAC has 12 teams in its volleyball league, and two teams will advance out of the conference to the NAIA national tournament. Conferences get one automatice bid to nationals for every six teams in the league.
Based on last year's standings, Indiana East (37-19, 14-1 KIAC in 2011) and Asbury (Ky.) (42-11, 14-1 KIAC) will likely the top teams in the league. Cincinnati Christian (23-13, 10-5) and Indiana Southeast (22-17, 10-5) also had strong years last season.
Indiana East won the KIAC Tournament in 2011 and received the conference lone bid to the national tournament. The Red Wolves lost in the NAIA Opening Round just as Point Park did.
Other Schedule Notes:
--All of Point Park's home matches will be played at the Student Center Gym, located at 330 Blvd. of the Allies in Downtown Pittsburgh. Point Park's home venue for the last seven years was Greentree SportsPlex. The Pioneers split time between Greentree and the Student Center Gym last year, but all matches will be Downtown starting this year.
--The Pioneers will take part in "Jam the Gym 3" Sept. 5 at Kiski Area High School, the alma mater of head coach Mike Bruno. The Pioneers will play Seton Hill (time TBA) right after a high school match between Kiski Area and Butler. The event is in its third year and helps support the fight against cancer. More info at www.jamthegym.com
--The Fifth Annual Volley for Vision will be Oct. 20 at Point Park featuring matches versus Indiana Southeast (11 a.m.) and Berea (Ky.) (1 p.m.). The annual event raises money and awareness for ROPARD, the leading organization dedicated to eradicating problems of low vision and blindness related to premature birth. More info at www.volleyforvision.org
--The Pioneers will visit the Clearwater (Fla.) Christian Invitational Oct. 5-6 where they will play Michigan-Dearborn and four schools from Florida -- Ave Maria, Northwood, Warner and host Clearwater Christian
--For the second year in a row, there will be a Point Park Volleyball Alumni Match on Sept. 29. Point Park's Gold Team (JV) will face a team made up of volleyball alumni at 9:30 a.m. Point Park's varsity will play W.V. Wesleyan at 12 p.m.
--Senior Day will be Sat., Nov. 3 vs. Cincinnati Christian (11 a.m.).
--Point Park will play six schools that competed in a national tournament in 2011. Lee, Indiana Tech, Taylor and Indiana East played in the NAIA national tournament while Wheeling Jesuit (NCAA DII) and Emory (NCAA DIII) reached their respective national tourneys. Opponents Northwestern Ohio and Asbury lost in conference championship matches to fall just short of the national stage.
--Point Park's 40 matches included 27 versus NAIA schools (10 in KIAC), 12 versus NCAA Division II and one versus NCAA Division III.