Point Park newcomer Livia Caluori named KIAC Volleyball Player of the Week
Sept. 11, 2012 at 9:15 p.m. ET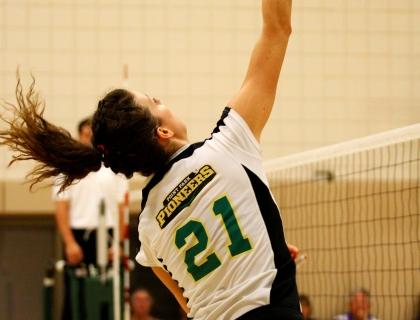 Livia Caluori (21) is the KIAC Volleyball Player of the Week for Sept. 3-9. Photo by Evan Skowvron.
PITTSBURGH -- Newcomer Livia Caluori, Point Park University's a senior middle hitter from Switzerland, has been named the KIAC Volleyball Player of the Week for matches through Sept. 9. Caluori, who is 6-foot-3, transferred to Point Park this year and was on the Swiss National Team the last three years.
Caluori had a strong week with 37 kills (3.08 per set) and 16 blocks (1.08 per set) while also hitting an impressive .476 in the four matches on the week. Caluori led Point Park to a 3-1 showing and a second-place finish at its Pioneer Invitational Sept. 7-8. For her play, she was named to the All-Tournament Team.
Caluori's best outing of the week included 14 kills, four blocks and a .500 attacking percentage versus Northwestern Ohio (14-1). She also hit .500 with 10 kills and four blocks in a KIAC win over Asbury. Caluori hit for a .500 percentage with nine kills versus Rio Grande. Although it included a week-low four kills, her match versus West Liberty included six blocks.
For the year, Caluori is hitting .372 with 2.45 kills and 1.17 blocks per set. She ranks 17th in the NAIA in hitting percentage and 24th nationally in blocks per set.
Point Park (10-2) is off until hosting Midway (Ky.) and Shawnee State in a tri-match on Saturday, Sept. 15. The Pioneers play at 11 a.m. and 3 p.m. in the Student Center Gym.
Follow us on Twitter @PointParkSports and Facebook.com/PointParkAthletics