Oberacker nets KIAC Volleyball Player of the Week honors in first week of award
Sept. 4, 2012 at 9:00 p.m. ET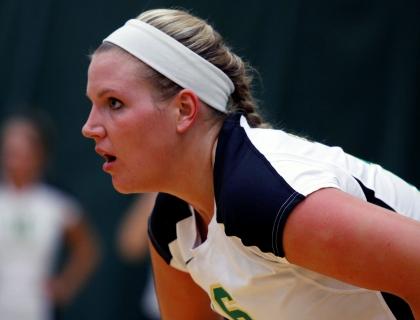 Lindsey Oberacker (Sr., OH) is the KIAC Volleyball Player of the Week. 2011 Photo by Evan Skowvron.
PITTSBURGH -- It didn't take long for Point Park and senior outside hitter Lindsey Oberacker to make a mark on the Kentucky Intercollegiate Athletic Conference. Oberacker, a 6-0 senior outside from Erie, Pa., was named the KIAC Volleyball Player of the Week for matches played Aug. 27-Sept. 1. It was the first week of the 2012 season that the award was handed out.
Point Park, which is 7-1 overall and rated in the 'others receiving votes' section of this week's NAIA Volleyball Coaches' Top 25 Poll (Sept. 4), is a new member of the KIAC as of this fall.
Oberacker had another productive weekend Aug. 31-Sept. 1 at the NCAA Division II Fairmont State Falcon Fest to take home the Player of the Week honors. She led Point Park to a perfect, 4-0 showing and a team co-championship by putting up 37 kills (2.84 per set) and 35 digs (2.69 per set) in the four matches.
For the year, Oberacker is averaging 2.96 kills and 3.14 digs per set as a six-rotation player. She and the Pioneers return to action Sept. 7-8 when they host four challenging teams for the 2012 Pioneer Invitational at the Student Center Gym. A four-year starter, Oberacker was NAIA Honorable Mention All-American and AVCA-NAIA All-Northeast Region in 2011 when she ranked fifth in the country in total kills.
Follow us on Twitter @PointParkSports and Facebook.com/PointParkAthletics