Pioneers rated in 'others receiving votes' section of NAIA Top 25 Poll, No. 36 overall
Sept. 4, 2012 at 9:20 p.m. ET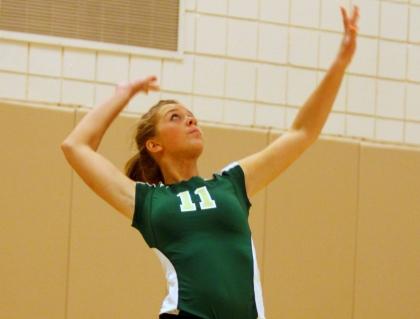 Pictured: Pioneers' libero Alyssa Hall goes up for a serve. 2011 Photo by Evan Skowvron.
NAIA TOP 25 POLL (SEPT. 4, 2012)
PITTSBURGH -- In the Tachikara-NAIA Volleyball Coaches' Top 25 Poll released by the national office on Tuesday (Sept. 4), Point Park University (7-1) was rated in the 'others receiving votes' section. The Pioneers are rated as the No. 36 team in the nation.
Despite a strong first two weekends and a 7-1 overall record, Point Park was unable to crack the Top 25 and actually dropped four spots and 20 total votes from the previous poll. Point Park was rated No. 32 in the nation in the NAIA Preseason Top 25 Poll that came out Aug. 16. The rankings release Tuesday were the first onesl of the regular season.
Point Park's 7-1 record includes a 3-1 showing at the highly competitive Michigan-Dearborn Early Bird Challenge Aug. 24-25 and a perfect, 4-0 showing at the NCAA Division II Fairmont State Falcon Fest Aug. 31-Sept. 1.
Point Park was 3-1 at the UMD Early Bird Challenge. The lone loss of the season came to then-No. 16 (now No. 18) Madonna (Mich.). The Pioneers also picked up a 3-1 win over then-No. 22 Cornerstone (Mich.), which moved up one spot to No. 21 in this week's poll with a 3-1 overall record to date. Another win at that event was over Indiana Tech, which was receiving votes in the preseason.
Point Park's 4-0 showing at the Fairmont State Falcon Fest made it one of only two teams to go 4-0 there. The field was made up entirely of NCAA DII teams.
Point Park will play another tough tournament this coming weekend, Sept. 7-8. Point Park hosts the 2012 Pioneer Invitational Invitational where it will welcome NAIA teams Northwestern Ohio (10-1), Rio Grande (3-1) and Asbury (1-2). NCAA DII West Liberty (2-2) will also be in attendance for the tournament, which includes 10 matches over two days.
Follow us on Twitter @PointParkSports & @PointParkVB and Facebook.com/PointParkAthletics