Pioneers cruise past WV Wesleyan with strong play from front line
Sept. 29, 2012 at 10:05 p.m. ET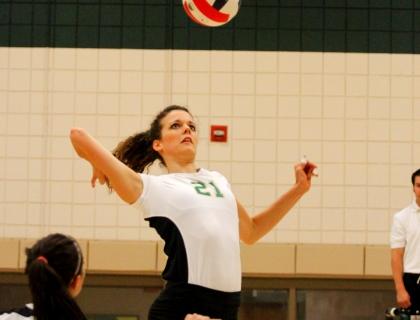 Point Park's Livia Caluori (21) had 7 kills and 11 blocks in Saturday's win. Photo by Evan Skowvron.
PITTSBURGH -- Point Park University was too much to handle up front for West Virginia Wesleyan College on Saturday as the Pioneers' efficient attack and big block led to a 3-0 victory in a non-conference volleyball match at the Student Center Gym.
Point Park (16-3, 4-1 KIAC) put up an attacking percentage of .354 (.487 the first two sets) and 15 total blocks on its way to a 25-11, 25-16, 25-17 win over W.V. Wesleyan (5-11). The win improves Point Park to a perfect 7-0 versus NCAA Division II schools.
The Pioneers hit a blistering .526 with 11 kills, 1 error and 19 attempts in dominating the first set. Livia Caluori, a 6-3, senior middle hitter from Switzerland, set the tone early with some big kills and blocks. The former Swiss National Team member finished with seven kills and no errors in 10 attempts (.700) to go along with a team-high 11 blocks.
Junior outside hitter Chelsea Katkich, from Imperial, Pa., added seven kills and one blocks and hit .500 for the day. Junior right-side hitter Nicole Wurstle, from Valley City, Ohio, posted eight kills and zero errors in 10 attempts for an impressive .800 hitting percentage. Wurstle also added four blocks while Keataon Sausman and Ashley Campbell had three blocks each.
W.V. Wesleyan held Point Park's top weapon, Lindsey Oberacker, relatively in check with only three kills. But the Pioneers spread the ball around, which ended up being too much for the Bobcats to defend. Oberacker did her part elsewhere with a team-high nine digs and also two blocks.
Senior setter Tayler Pugliese totaled 18 assists, five digs and five blocks while sharing the setting duties as the match went on.
Point Park's next match is Monday, Oct. 1 vs. Fairmont State. The first serve is 7 p.m. in the Student Center Gym.
Follow us on Twitter @PointParkSports and Facebook.com/PointParkAthletics